A while back me and Bassman made some Venison Bacon. While I was at his house, I ate one of the best Chimies I have ever had. With that and last weeks breakfast conversation in mind, I tore into a batch of chimichangas this afternoon.
I don't have many pictures, so I'll describe it as best as I can:
~ 1/4 brisket
~ 3/4 pulled pork, I'm guessing the pork was about one butt worth
2 chopped onions
1 can Delmonte Mexican tomatoes drained
~2T minced garlic
1 dozen chopped roasted green chilies
Sam's Club Taco seasoning
Garlic Salt
Chili Powder
This batch made 28 good sized chimichangas.
In a skillet, I sauted the onions and garlic in olive oil, then added the green chilies and tomatoes after they the onions were clear. Cooked that for about five minutes and added it to the meat in a large bowl. I mixed it in and seasoned to taste.
Large bowl - spicey
Small bowl - medium
I did add about 1 C of grated sharp cheddar that's not in the shot. Then I rolled'em up in flour tortillas and fried them.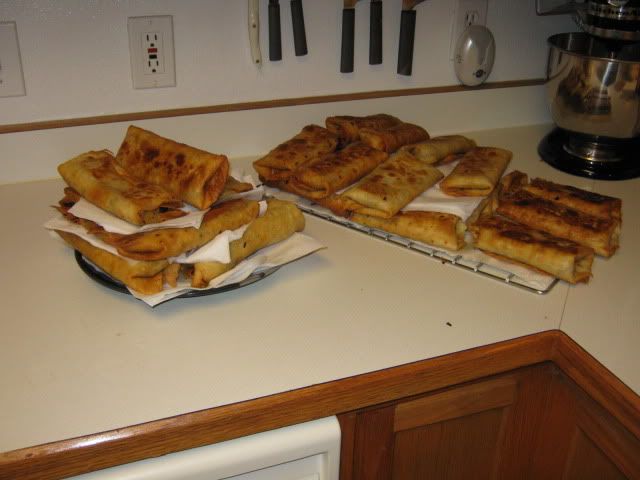 These will be served Bassman style - a good shot of grated cheddar smothered with Stokes Green Chili - wooo damn!
What ever survives tonight's dinner will be frozen for later.
I have to thank Keith for the idea and you guys for checking out my post.
Tracey