I wanted to Break in my Q-matz from Todd, try Jeff Phillips Meatloaf from the recent newsletter and keep them a little bigger than a pound each per Chef JJ.  This is the recipe but I swapped a pound of ground beef for a pound of pork and no bacon wrap.
| | |
| --- | --- |
| Smoking Meat Newsletter | |
---
Jeff's Book | Newsletter Archive | Smoking Meat Forum | Purchase Rub/Sauce Recipe
---
Smoked Meatloaf Logs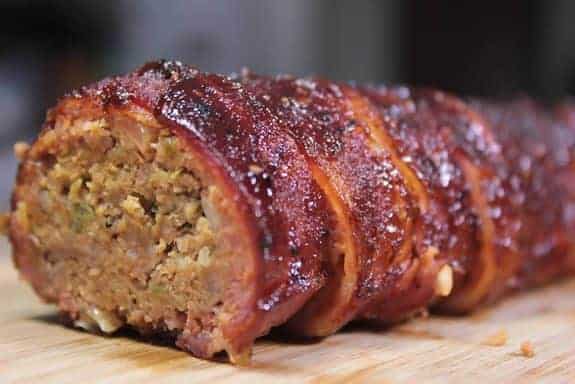 Smoked meatloaf is something I decided to try about 10 years ago on a whim and it has been a regular feature at our table ever since. I wrote about it way back then and I've had hundreds of folks tell me they would never eat an "oven" meatloaf again.
Take that same meatloaf, form it into a log, wrap it in bacon and you have smoked meatloaf logs.
Most folks agree that bacon makes almost anything better and this holds very true in this recipe as well.
Get the Recipes - Say Goodbye to the Ads
These smoked meatloaf logs use my rub inside the meat and over the top of the bacon once it's wrapped to create an amazing flavor profile that will make your lips and tongue want to do the tango. 
My very own barbecue sauce recipe also adds some zing to the inside and a very nice sticky and flavorful surface on the outside in a way that you just have to experience to believe!
I promise you'll love my dry rub/seasoning recipe and my barbecue sauce recipe or you don't pay!
Reasons to buy: Support the newsletter and the website | Own the recipes | Get the email newsletter 100% AD FREE from now on
Note: Removing the ads is handled via my automated system and it is not perfect. If you purchase the recipes and continue seeing the ads, simply let me know via email and I will do my best to get the ads removed for you in a timely fashion.
Smoked Meatloaf Logs
Smoked meatloaf is something I decided to try about 10 years ago on a whim and it has been a regular feature at our table ever since. Take that same meatloaf, form it into a log, wrap it in bacon and you have smoked meatloaf logs.
Helpful Information
Prep Time: 25 minutes
Cook Time: 2.5 hours
Smoker Temp: 225°F
Meat Finish Temp: 165°F
Recommended Wood: Pecan
What You'll Need
2 lbs of ground beef (80/20)
¾ cup green pepper
1 cup diced onion
½ cup quick oats
¼ cup worcestershire
2 eggs
1 lb bacon
Wax or parchment paper
Make the Meatloaf
Add ground beef, green peppers, onions, eggs and oats to a large mixing pan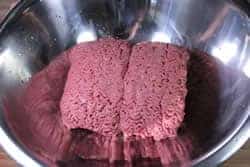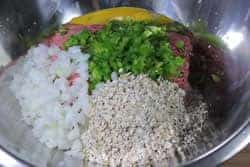 Add 1/3 cup of Jeff's rub and 1/3 cup of Jeff's barbecue sauce and mix together with clean hands to combine.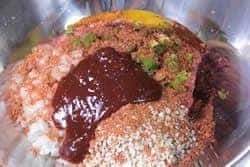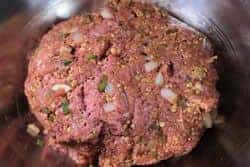 Oops.. I almost forgot the worcestershire sauce!
I just made a bowl to put the worcestershire into, then remixed it lightly.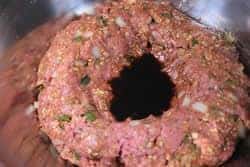 Make the Bacon Weave
Making a bacon weave is not the easiest thing to write out so that it's easy to follow. I have posted pictures and I feel confident that you can accomplish this, even if you've never done it before, by studying the images carefully before you begin.
Begin by laying out some wax paper and create the bacon weave in the center or at one end leaving enough room to form the meatloaf log at the other end.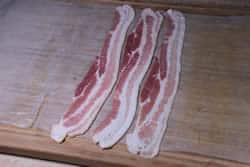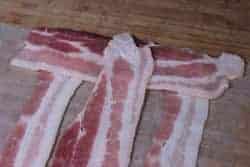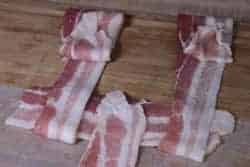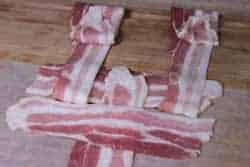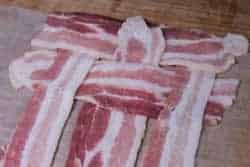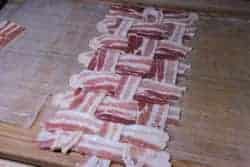 Form the Meatloaf Logs
Form half of the meatloaf (1 lb) into a log that is about the same length as the bacon weave you just created.
Be sure to create it close to the bacon weave and lined up with the long side since you will simply roll the log onto the bacon once it's finished.
It will need to only be about 2 inches in diameter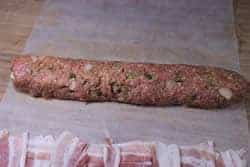 Once it's formed, use the wax paper to help you roll the log up onto the edge of the bacon.
Continue to roll the meatloaf log and the bacon weave until the weave is all the way around the meatloaf log.
It's not the end of the world if the the weave overlaps or if there is a slight gap that the weave does not cover.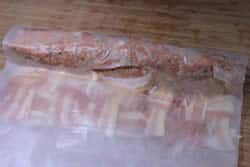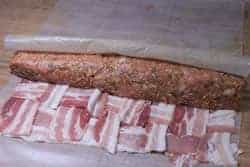 Once it's finished, use the wax paper to help you move the wrapped log to a Bradley rack or you can leave it on the wax paper for now so you can move it to the smoker grate in a few minutes.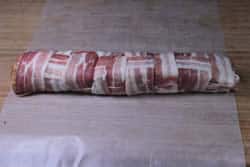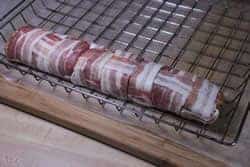 Repeat these steps on the 2nd meatloaf log.
Seasoning the Meatloaf Log
Sprinkle ample amounts of Jeff's rub all over the outside of the wrapped meatloaf log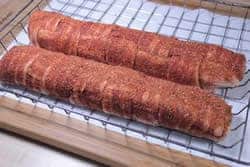 The meatloaf logs are now ready to smoke.
Get the Smoker Ready
Set up your smoker for cooking at about 225°F.
Make sure to have enough smoking wood to last about 2 hours.
If your smoker has a water pan, fill it with water or other liquid.
I cannot tell a difference between using water and other liquids such as apple juice, beer, wine, etc. but if you can and you enjoy it, feel free to do so.
I usually just use plain water.
Smoke the Meatloaf Logs
Place the logs directly on the smoker grate or if you used the bradley rack, just lay the entire rack on the smoker grate.
Maintain about 225°F for 2-3 hours or until the meatloaf logs have reached 165°F in the center using an accurate meat thermometer.
I like to keep the smoke going for the entire time they are on the smoker. I recommend at least 2 hours of smoke since the bacon does keep the smoke away from the meatloaf.. but some does seep through and you can taste it in the actual meatloaf.
I used pecan. Feel free to use your own favorite smoking wood for these.
Ok I'm back.
I made them a few hours before, wrapped them and put them in the fridge for a few hours to hold their shape.  Onto the Q-matz they go.
After an hour and forty minutes I hit 160*F and put on the sauce.
Pulled at 165*-170*F.
Great smoke flavor with the one pound loaves from the extra surface area than one loaf.  I need to try all beef next time to compare.
Edited by Dr K - 7/29/14 at 2:58pm