Smoking Fanatic
SMF Premier Member
671
733
Joined Jun 12, 2019
Hey guys,
New to the pellet smoking world and I picked up a reasonably priced Zgrill about a month ago. I like it so far- easy to run obviously and it cooks great food, albeit without any smoke flavor. I still haven't added another tube yet. I
Anyway, I have two questions!
1. I went to use it yesterday and noticed that there is a ton of brown residue in the grill itself. It's on the grease plate drainer, the heat baffle, the feeder arm inside the grill. I've seen stuff like this in my wood smokers before but it wipes away. This doesn't, so I'm wondering if it's rust...but already? I emailed Zgrill support and they said likely rust but to not worry about it.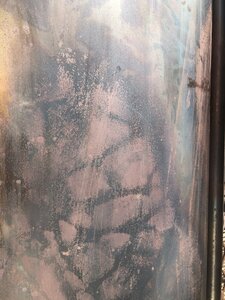 2. My second issue is that no matter what I cook- pork butt to just a pan of veg- I get this large grease accumulation next to the fire pot. Here is a picture of where it forms circled in red with another cone of red inside indicated the dispersion of the grease (I don't have a picture with the grease actually there since I clean it up). Surprisingly though, the grease plate is mostly clean when in use. Any idea of what this could be? I'm waiting to hear back from Zgrill support on this issue still.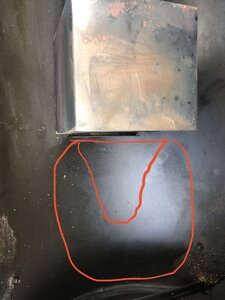 While I wait for responses for some of these things, I just thought I would pick the brains of the community here. Thanks for any advice or ideas!