Master of the Pit
Original poster
SMF Premier Member
First Whole Chicken- Brined and Smoked, could not believe it myself. LOL
Bought a couple 4 pounders ,
Did a basic Brine, chicken in bucket and in fridge for 24 hours
1 gal water
6 oz of Kosher salt
1/2 cup Brown sugar
2 oz of apple juice
1/2 onion diced
Dried of the bird and into the fridge for 20 hours ( work got in the way )
Patted dry again , Sprayed with Canola oil . Than coated with a rub I mixed up
Paprika, Summer savory and brown sugar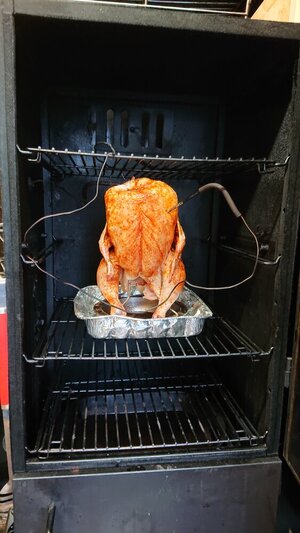 In the smoker with Cherry chips, at 370 - 375 Deg. Trying to reach 165 on breasts and 175 on the thighs
After the first hour
Just shy of 1 1/2 hours , the temps shot up fast in last 10 minutes. As you can see the Breasts were 174, thighs were 189 the smoker was at 371deg. and the building was at 73
Brought in the house and let it hang around for 15 minutes
Sliced it up , and this was/is the juiciest chicken and the best tasting chicken I have made to date
I will always brine if I have the time . This was fantastic . and Mona loved it also.
Thanks for looking and I am off to make a big smoked chicken sandwich
David