Master of the Pit
SMF Premier Member
1,185
1,020
Joined Mar 8, 2017
made a 25 lb batch of fresh spicy venison Italian sausage over the last few days. This is a recipe I've used, and adjusted along the way. Main ingredients were 50/50 venison and pork, with brisket trim and bacon Ends from my home made bacon. I also used fresh garlic, Italian parsley, toasted fennel, anise, coriander & caraway. Also salt, pepper, accent, red wine, and plenty of red pepper flakes and cayenne.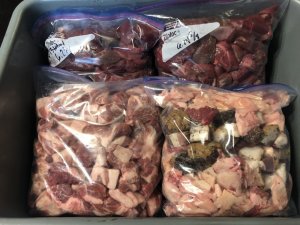 My meat mixture all ready to be ground. I ground it once with the medium plate, and then once again with all of the seasonings with the fine plate.
I didn't take a lot of pics bc it's so labor intensive, but I tried a new technique with my garlic. I normally roast it, but this time I baked it, completely covered in bacon grease, for 45 mins in a 350 degree oven. Then I drained the garlic, cooled and added that to the meat mixture. I tasted it alone and it was by far the best, most flavorful garlic I've ever tried. Here is a pic when I pulled it from the oven. The house smelled divine.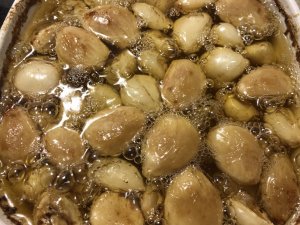 I highly recommend trying this if you keep your bacon drippings. Also, now I have garlic infused bacon grease.
I got 19 monster packs all well over 1lb each. Much happier with the links on this go around, a lot more uniformed.
Had to grill a few odd ball pieces for the game.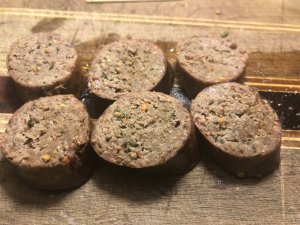 I'm really happy with how this batch came out. Full of flavor, and I finally have a sausage casing with snap. Made the switch to Walton's casings and I'm glad I did. You get what you pay for.
Thanks for looking!