Master of the Pit
OTBS Member
SMF Premier Member
1,916
1,996
Joined Mar 8, 2017
Now that the hurricane season is over it's time to fire up the charcuterie cabinet again. Made just over 6 lbs of Spanish chorizo following the attached two guys recipe/video. I liked this project bc I had everything in house. Never had to leave my home to get it going.
I used the 2 guys recipe, but tripled the amount to a total of 3000 grams of pork and back fat.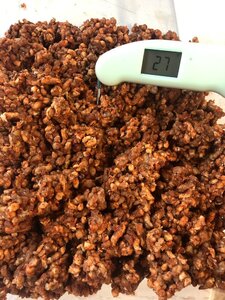 here is the meat ground with the seasoning added the night before.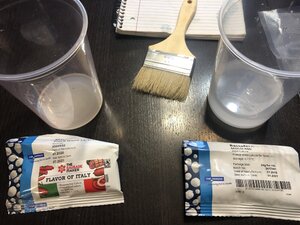 disregard the mold 600 in the pic. Wasn't until after I started I realized this sausage doesn't call for mold 600 (and within 24 hours I already had some growing on the links in the chamber but not to worry).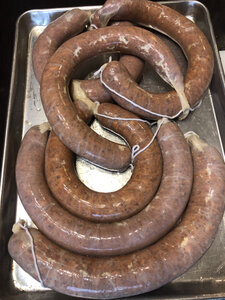 after mixing in the flavor of Italy and getting a really good tacky bind, I stuffed in beef rounds. I love the way these casing handled. I soaked them for 48 hours in water and a splash of vinegar.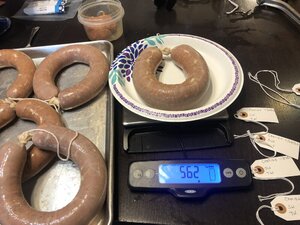 tying my links and weighing/tagging everything.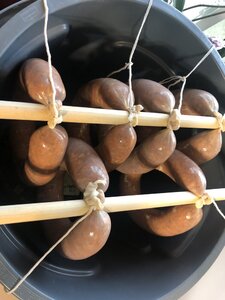 into the fermentation tub for about 24 hours. Looking for a ph of 4.9.
my kitchen lab.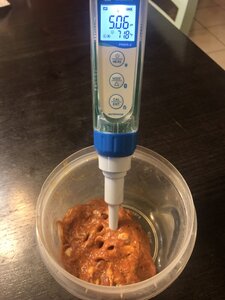 getting close. Ended up taking almost 30 hours to hit 4.9. Once that happened it's into the drying chamber until they hit about 37% loss.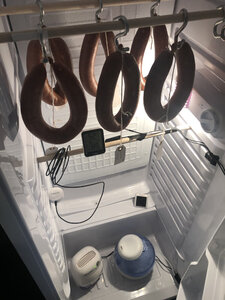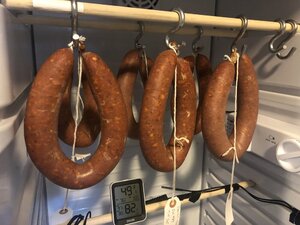 See you in about 5-6 weeks!!
Last edited: