Master of the Pit
★ Lifetime Premier ★
1,333
502
Joined Jun 30, 2018
For the past 7 years, my wife has been Type 2 diabetic and insulin dependent. Needless to say, breads, pasta, and anything else that is high in carbs is on the no-no list.
Occasionally, we had purchased low carb bread for her. However, at anywhere from $8 to $10 bucks a loaf, the cost became outrageous.
My wife would drop hints every so often that she was really craving some bread but refused to pay the high prices for all ready baked low carb bread.
We started discussing options when we both remembered that her mother purchased a Zojirushi bread machine for us several years ago. Thus began the search for a decent low carb bread machine recipe.
Thanks to Google and Youtube, I came across a promising recipe.
Please note, that this recipe is strickly low carb and not Keto.
Each slice has 4 net carbs but substract 2 carbs due to the fiber content.
Yep, fiber content...move over Metamucil
The recipe and credits are listed at the end of this post.
Ingredients all premeasured and waiting. When measuring ingredients, I used the drop method into nesting measuring cups and leveled with a knife.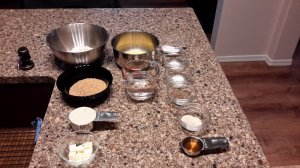 All ingredients loaded into the pan. Note: the machine directions tell you to make a well in the center of the dry ingredients and then add the active dry yeast.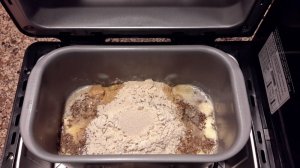 When I first started making this recipe, I used the basic course with medium crust. It was ok, but the loaf did not rise very much. Since then, I started using the basic wheat course and have had better results. Regardless, this is not a high rising puffy bread.
A quick shot of the initial kneading.
Let's take a quick look while the loaf bakes.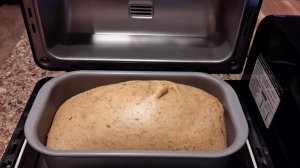 3 hours and 42 minutes later the loaf is complete.
Now for a slice. This recipe results in a bread with a nice crumb yet it is chewy.
The recipe:
Ingredients
1 C. Water (I use bottled water and heat the water to 96 degrees F...ymmv.)
2 Eggs, slightly beaten
2/3 C. Ground Golden flax meal
1/2 C. Oat Fiber
1 1/4 C Vital Wheat Gluten
2 Tbsp. Softened butter (let it sit at room temp for 1/2 hour or so)
4 Tbsp. Swerve (granulated, for baking)
1 tsp. Salt ( I used himalayan pink salt)
1/2 tsp. Xanthum gum
1 Tsp. Honey (raw) Note: Original recipe calls for 1 tsp of honey.
1 Tsp caraway seed (optional)
1 Tbsp. yeast
Layer ingredients per machines manufactures instructions
I used a ZOJIRUSHI BB-CEC20 bread machine
Credits:
Diedre's Kitchen
Thanks for looking.