Smoking Guru
Original poster
OTBS Member
★ Lifetime Premier ★
Albertson had a good sale on seafood and I also had a 20% off grocery coupon so it was time. This almost didn't happen as I was so pissed off when I figured out what Fidelity did to me while doing taxes. Any way. Started with couple lobster tails. Man where these good. I tad over but not by much. Suppose to broil 1 minute per ounce and these where 3.25 so I went 4.
I had bought couple containers of Blue Crab claw meat. I was amazed at this when I opened it. I figured be like everything else and be 70% water but this was all meat and almost whole pieces. I made some crab cakes and they where so good. Lite on the filling so full of crab. I halfed recipe and still have another container to use. Here is recipe I used:
2 large eggs
2½ tablespoons mayonnaise, best quality such as Hellmann's or Duke's
1½ teaspoons Dijon mustard
1 teaspoon Worcestershire sauce
1 teaspoon Old Bay seasoning
¼ teaspoon salt
¼ cup finely diced celery, from one stalk
2 tablespoons finely chopped fresh parsley, I used cilantro
1 pound lump crab meat
½ cup panko
Vegetable or canola oil, for cooking
Make the Crab Cakes
To begin, combine the eggs, mayonnaise, Dijon mustard, Worcestershire, Old Bay, salt, celery, and parsley in a bowl. Mix well to combine. Add the crab meat and panko. Gently fold the mixture together until just combined, being careful not to shred the crab meat. Rest patties in fridge for one hour before frying to firm up.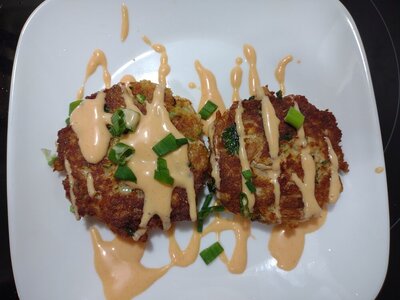 Then snow crab next. I have always just steamed until I tried this lady recipe. When I first watched her thought she was crazy but tried it anyhow. Man are they good but messy. You get all the stuff on your fingers while cracking open then it gets on the crab. You can search "HOW TO PREPARE THE MOST AMAZING SNOW CRAB LEGS RECIPE Let'z Eat Tiffany Suzette"
This my first of two:
That's a wrap. Thanks for looking.
Last edited: