Smoking Fanatic
Original poster
Over the last couple of years I've built up an arsenal of different smokers, each with it's own purpose as I'm a believer in having different tools in the tool belt for different jobs. Not to mention, I'm also a little obsessive when I get in to a hobby and tend to go a little over the top. I admit that lol. Anyways, after my very first smoker died several years ago (a MES 30), I decided I wanted to try a pellet grill and I bought a Pit Boss Pro Series 1100. I felt it was a decent enough smoker at the time, but one thing led to another, and other smokers came in to the picture including a
Weber Smokey Mountain
,
Weber Kettle
, and a little Weber Smokey Joe, a couple different offset stick burners, and another electric smoker specifically for ultra low temp smoking for sausage etc. Other cookers also entered the picture including a Blackstone Griddle and an Ooni Pizza oven. All of these get used regularly, but it got to the point where the Pit Boss hadn't been fired up even once in the last couple of years.
I started realizing the reason why the Pit Boss wasn't getting any use is that I really just don't like it very much any more based on it's controller, it's lack of features, and just my overall cooking preferences. At the same time I also realized that a pellet smoker serves a very practical purpose and is a great tool, and that if I had one I actually liked it would probably get a lot of use, especially for week night cooks. I mostly work from home, but I definitely don't have the ability to babysit a fire in one of the offset's while I work, for me personally my
WSM
is not in any way set it and forget it, and the electric is really for sausage and other low temp cooks (and also serves as a holding cabinet).
So I started thinking about the features I wanted, and looking at different options. I realized that was was important to me was a better quality controller, preferably a PID controller with minimal temp swings and WIFI capability, something that has a full size upper shelf, and something that is capable of puting a stronger smoke flavor on my meat than the average pellet smoker as I really have gotten used to my stick burners, which are my primary cookers. So I started looking at options, and had it narrowed down to three different pellet smokers. The Weber EX6 Gen 2, the new
Camp Chef Woodwind
Pro 36, and the
Rec Tec
RT 1250. All three met all of my requirements, it was just down to deciding which one to go with.
Then something happened.... I saw a thread here by another user that made me think of something I hadn't considered.... a cabinet style pellet smoker. That seemed to be a great idea because instead of just having a main grate and an upper rack, it has multiple racks! The reason that is important to me is I am absolutely adamant about cooking brisket and pork shoulder FAT CAP UP. It's just not even debatable for me, and with a pellet grill's fire pot right in the middle of the chamber and the main grate so close to the firepot, you just get too much radiant heat and therefor you really need to go fat cap down. But with an upper grate or better yet multiple racks in a vertical, you can get the meat up far enough away from the firepot that it's not a problem, and for even more protection you can also put a water pan directly below the meat if you want. So... at this point I just needed to find a vertical unit that had the other features I wanted such as PID controller preferably with WIFI capability, and the ability to put a stronger smoke profile on the meat.
So... back to the drawing board. I looked around and it seemed there weren't too many options for verticals. The main ones I found were by Pit Boss, and
Camp Chef
makes one as well. After researching both of those I really wasn't impressed with either brand's vertical offerings. Then I remembered a Youtube video I saw by Dead Broke BBQ, on a vertical unit made by Smoke Daddy, who also makes a bunch of accessories to upgrade other brands of pellet grills with controllers, heat diffusers and other things. So I did my research and found the Smoke Daddy Pellet Pro 2300 vertical cabinet smoker, which met
almost
all of my requirements. It's vertical so it's better than a main grate and upper rack, It has a PID controller, and you can add their "Heavy D" stick burning heat diffuser which is supposed to get you a stronger smoke flavor. The one thing it didn't have was WIFI... which sucks, but I decided I can monitor temps by my WIFI
Fireboard
, which is all I really need. But to make up for that it has some other features that are really nice. First, it's double walled, which while not as good as fully insulated it will retain heat much better than your average pellet smoker. It also has a convection fan at the top of the cabinet that can be turned on or off as desired, and this helps to ensure even temps through the entire cabinet. And last but not least, this thing has a TON of capacity... I mean a ton. It comes with three racks which are 20x21, and a rib rack that can hold 7 racks of ribs, and there is room for 3 more racks. At 21x20 each rack is capable of holding two briskets or four pork butts. Unfortunately, the space between the racks is a little less than I'd like, so if you're smoking briskets or pork butts you're really limited to 4 racks, maybe 5 racks. But still... you could cook at least 5 briskets and 6 Pork butts at one time, and you may even be able to fit the rib rack for 7 racks of ribs. And tri-tips? You could fit at least 4 maybe even 5 tri-tips on each rack and they are thin enough you could load up all 6 racks, or you could even add a seventh if you ditch the rib rack and buy a seventh rack (they sell them individually or as a 3 pack). That's potentially 28-35 tri-tips total.... That is one hell of a lot of food! I do sell some BBQ on the side here and there so in addition to week night cook duty, this could also come in very handy for large cooks, even serving as a dedicated tri-tip and rib cooker.
So, I ended up pulling the trigger on it. Took delivery on it yesterday and got it assembled last night. Today has been rainy all day and I had some other stuff going on as well, but I'm planning to do the burn off and seasoning tonight and the first cook on it tomorrow, a whole chicken and a Tri-tip. Very much looking forward to seeing how this thing performs! Also really looking forward to being able to do week night cooks which will be a game changer for me.
And now, the obligatory pics: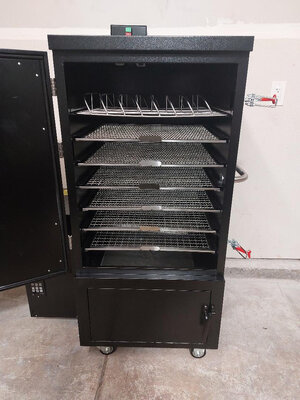 Last edited: