As promised in my 500 gallon thread I'm starting a new one featuring my new 1000 gallon build. She's called Eclipse, because this will be one of the handful largest smokers in the Caribbean and surely the biggest BBQ grill on the island next to my 500 gallon.
I started 2 years ago on a Weber Kettle and have build 3 smokers to date. But now I am opening a restaurant in a few months. Next to the restaurant I will keep the catering part off business which helped me get to this point so fast. So here we go....
The tank and the house I will turn into my BBQ joint. We will focus on the smoker and occasionally I will update on the house.
The soil is very soft and the slightest rain turns it into clay. So I could not set the tank leveled. What I did was put the tank on 2 pieces of pipe so it could b rolled over without any effort. Also I welded a quick tool to find the centre line and go from there. I just measure the distances of the cuts, mark it, turn the tank until that mark is the new centre line and mark it across and roll the tank back to the original centre line.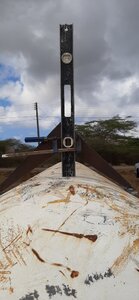 Marking the tank this way was a breeze!!! The end caps were as easy too. I marked the 6" radius for the 12" elbow. The doors are also marked.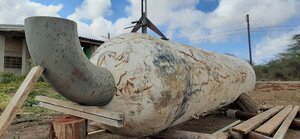 I saved the end caps of my 500 gallon. It's also 41" diameter. The 500 gallon is a reverse flow with warmer added later. I joined the pieces back together so I can have the "two tanks together look". It will have a 43" long x 24" diameter 3/8" pipe with a 30" pipe around it giving me 3" gap in between. The firebox will be insulated.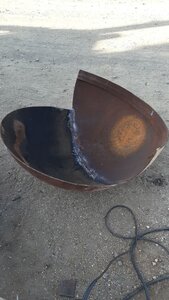 That's it for now. Now it's time for the hinges (pipe and rod) and then I can start cutting once the location has electricity. Otherwise I'll start on the firebox at home.