Well, I've been lurking here for awhile, and finally found the perfect fridge(pic below) for my cooling chamber in the local classifieds. It's a large wine cooler. Was a bit dirty and had some scuffs, but a little soap, water and elbow grease and it looks as good as new. I was hoping to get some advice/assistance from those that have done this before. I will be trying to cure coppa & Sopresata.
1. What is the target temperature and humidity i'm trying to maintain?
2. I've put a pan of water in the fridge with a fan, and it seems to keep the humidity around 70-75%. As soon as the compressor kicks in, this drops rapidly to 53% before climbing again. Whats the best way to deal with this?
3. Is airflow needed in the chamber?
4. I read some people have a type of air exchange. Can someone explain? Thanks for your time...
Good size, 75 bottle wine cooler!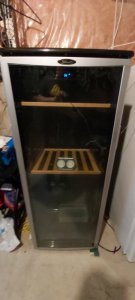 Access port drilled in the side. Used a cork and babybel wax to seal it off.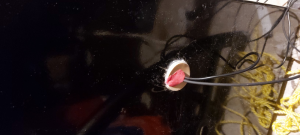 sensors installed.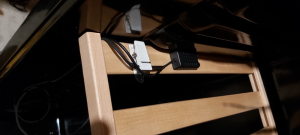 inkbird installed.