Meat Mopper
SMF Premier Member
228
192
Joined Jan 16, 2019
Just found these pictures from my last bacon:
Weigh the belly and using Digging Dog to calculate the salt, sugar and cure:
The belly will not fit in the bags I have, so I had to cut in half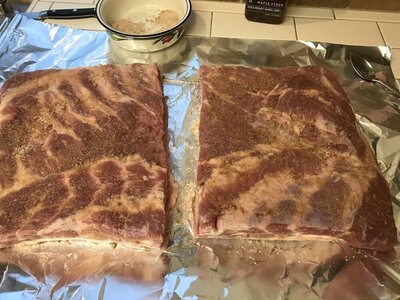 Into the smoker
A couple hours in
And we are done
I really want a slicer, but I am not too bad with a knife:
Yummy bacon. Hot smoked at about 150 degrees for about 6 hours or so, then kick it up a bit till it hit 150 IT. I am slowly getting better at this.
Thanks for looking!
HowlingDog (Mark)