Hey team. Blakehere from what is most likely a long way away from all of you, New Zealand (i'm struggling converting all your imperial measurements in my head!)
Ive been wanting to try low n slow bbq for a while and was about to buy an OK Joe, but they are super expensive here in NZ and thought shit im pretty good and welding and fab work ill just make one.
So I called past an engineer mates yard and picked up this -
Its appx 41" long and 16" in diameter. The wall thickness is bloody thick, around 10mm so i guess that makes it about 3/8"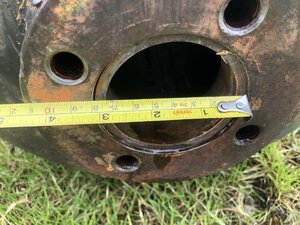 One I pop that middle piece out of this end outlet it will give me just over a 3" hole which should work alright for the smoke stack, my calcs using 0.2% of the CC puts it at around 23-24 inches long for the stack.
Bonus is it comes with some cool patina which seems to be trendy these days, dumb thing is its pretty oily inside, so ill have to burn the shit out our that.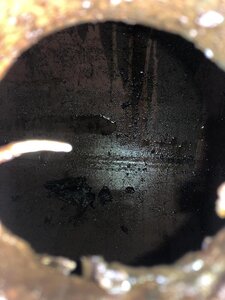 I've got some cool cast iron vintage wagon wheels on the way, and will grab some steel for legs next week.
I just need some help with design now, unless i can find some suitable pipe ill probs go for a square firebox as i can draw it up and have it laser cut which makes life easy. what size would everyone reccomend? ive looked at the calculators (feldon) but most people seem to say to steer clear from it these days. Id like to incorporate a cowboy grill with the firebox for reverse searing steak and what not. Im not too sure on the firebox size, inlet size and size of the gap from the firebox to the CC. Any help with all this would be greatly appreciated!
Cheers