Hey, new guy here, I figured I'd post the smoke I just started. I picked up a beef clod heart, I had no idea what it was but when you find beef under $2/lb you buy it. Got an 8lber for $15.
Googling around I saw it's cooked like a brisket so I'm giving it a shot. The plan is 225-250* until probe tender.
I trimmed maybe a half lb off. There wasn't much to trim just a little hard fat and some silver skin. I was in a rush to dry brine it and it was so cheap I cut off more than I needed to in the interest of speed. The fat cap was pretty thin so I just left it, overall there was not a lot of intramuscular fat, it's pretty lean. The rub was black pepper, onion, garlic and a dash of cayenne.
845pm Put it in the Smokin-it set to 225* with 8oz of smokinlicious red oak and a few charcoal briquettes. The plan is to wake up, check the IT and raise the box temps if needed.
Rubbed & ready to go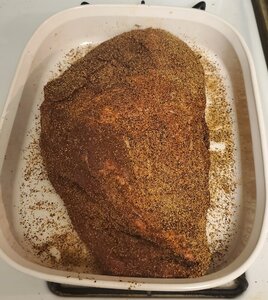 Here we go. Fat cap down, let er rip. Don't mind all the probes, it's a new smoker and I'm testing out the grate temps.