Epic Pitmaster
OTBS Member
★ Lifetime Premier ★
Dec 14, 2013
15,457
13,901
This could be the answer if you're says jalapeños work. Never even thought of it. Thanks dude.
I have the same problem here . Gets so damn hot starting about July that nothing produces . Then it cools off late in the season and the peppers go crazy , but not enough warm weather left . I had a strong Jalapeno plant last year , so I saved some seeds and put some in the Aero garden . Wasn't sure what to expect , but it's producing good . The plants on the front right and back left are Carolina Reapers grown from seeds I got from Richie . I've picked 4 jalapenos so far and there's about 10 hanging on the plant .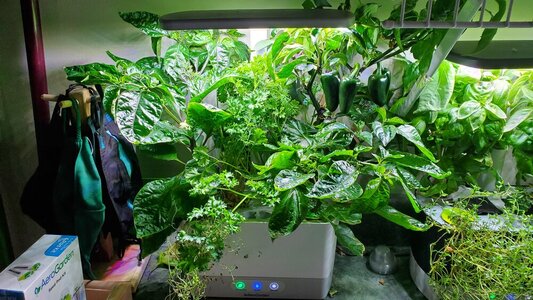 I started the seeds 2nd week of January .
The seed pods come pre seeded , or you can buy the holder and the sponge to use with your own seeds .