Smoking Fanatic
Original poster
SMF Premier Member
I think I started this over a year ago, and I may have even started a thread on it. I know I shared a picture or two, but now that it is done, I figured it deserved a new thread.
I have a bigger smoker, insulated cook chamber with with a side fire box made of 1/4 inch steel, but I wanted something I could cold smoke cheese and warm smoke sausage and jerky. I started thinking I had enough scrap pieces of wood and metal around that I could "throw something together in a weekend or two for cheap". I must have been on crack or something because it was neither cheap or quick (or even quality), but it is done.
Here it is: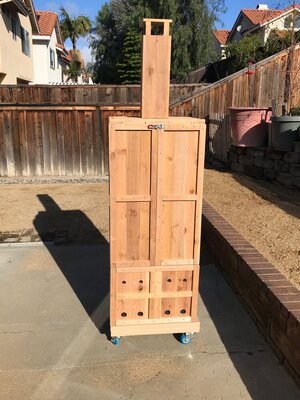 The first fire: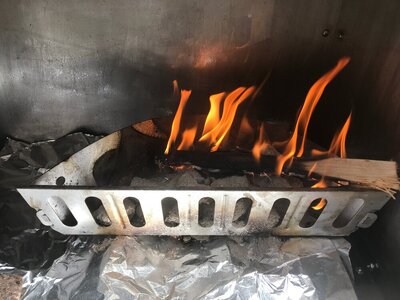 Like my other smoker, it is all bolted together. I do not own a welder so I use an angle grinder or metal "chop saw" to make cuts, and lots of drilling and filing later, it is all bolted together. I have a couple of thicker pieces directly above the fire I am using as baffle plates.
Originally, it started out with hickory and oak trim and shelf brackets, but that wood was bought at Home Depot/Lowes and the more I read about big box store wood, I was worried about pesticides or other things they may have used so I took it all apart, bought some metal trim, and finished the interior all in metal.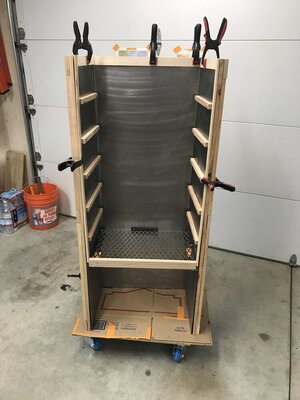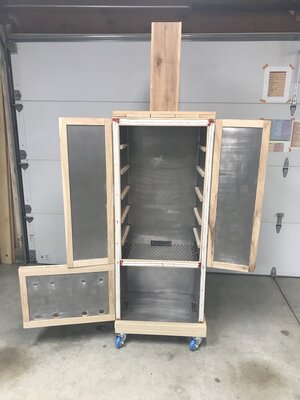 My goal with this smoker is to cold smoke cheese using a smoking tube/tray, sausage and jerky at temperatures under 180. I did the first fire today and I could hold temps at about 145-147 pretty easily with just a few charcoal briquettes and some wood pieces. I need to cut down some of my wood splits for this smoker.
Overall, it was a LOOOOOONG build, but a fun one. I am pleased with the first fire and how it held temps. I sprayed with PAM and ran the temp up to about 250 for an hour or so and it didn't burst into flames!!! According to my infrared thermometer, the outside never got above 130. Tomorrow, I will do a simulated sausage cook, and see how well I can manage temps for 6 hours.
I do need to come up with a name for this one. My big smoker is HowlingDog. Here is my buddy checking it out (well, licking the PAM off before I can get it closed up). She is about 2.5 years old, still really energetic and active and one of her many nicknames is The Kraken...... Hmmmm???? Maybe my new mini smoker will be The Kraken. Whatcha Think??
Thanks for looking. Now I want to get busy and make/smoke some sausage and jerky. I have only made jerky once, and that was several years ago.
Mark