This is from a few weeks ago. Still working on dialing in the flavors with this thing. Getting a little better with trial and error, more error though.
Took 2 whole Chickens, seasoned very simply with SPOG, overnight. Then into the smoker at 250' with Expert Grill briquettes, and some hickory chunks under the charcoal.
Previously the chunks had flared up, and they still did this time too.
Smoking for about 4-5 hours, longer than usual, had to keep turning off and bak on a few times due to the flare ups from the hickory chunks.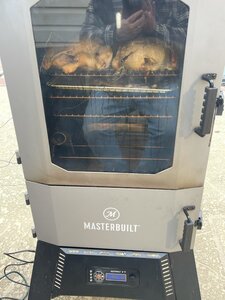 All finished after 5 hours. A little dark for my liking, but flavor was better than previous cooks, not strong though.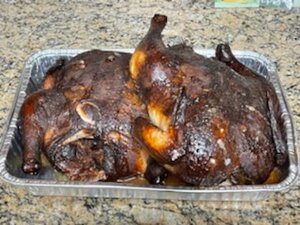 Overall not bad, was juicy, but I'm still learning this MB 40" Charcoal smoker. I will try pre soaking the wood chunks next time to see if it minimizes the flare ups. I need more than just the Charcoal flavor into the meats.
Thanks for looking in. Stay safe all.