I have to do ribs for 40 people. It was originally 20 people and I was very nervous about doing that. Now my wife has added to the guest list considerably. So I am doing them a day ahead of time.
The last load of my 30# rib party smoke.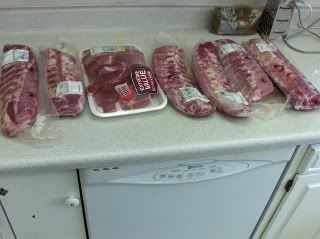 Something called pork Shoulder strips country style EUP
What ever that is.
They were on sale and I got about 4 lbs for $9.25 I'm going to pretend they are ribs and cook them that way.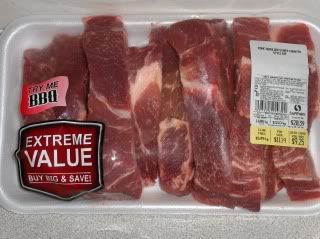 Got some really nice thin blue hickory smoke going in the MES.
This is the third load for the total smoke of 30# in all. The party was supposed to be 30 people but now my wife said my rep for ribs has gotten out and its 40 people. Yikes!! My MES loaded to the gills took 3 loads and I did one load in the Masterbuilt 7 in 1.  
Rested the first three loads for 1 hour and now their cooling in the fridge for tomorrows party.
I was panicking , do you know how much it costs to feed ribs to 40 people, but then some of them showed up with a bunch of packages of ribs from Safeway now all I have to supply is the expertise and my appetite.
I learned from this smoke to get the MES up to 275f and add boiling water to the water pan prior to filling the smoker to the max with meat. The temp drops a lot but levels off just a bit above the 230f cooking temp.
When I heated the box to only 230f and added the meat it dropped to 170f and then took 45 min on the first load to bounce back.
Hope to have some more view later on. But I am quite frazzeled. Rode hard and put away wet as it were.
PS of course its the small 30" MES not the big one.