First off the basic recipe.
Chicken, Feta, & Spinach Sausage
Yields 5 lbs of sausage. I usually do a double batch.
3 lbs raw thigh meat(cleaned)cut into 1 in. cubes.
1 lb raw breast meat cut into 1 in. cubes.
8 oz crumbled feta cheese.
4 cloves garlic minced/crushed.
1 T oregano.
2 t basil.
1 t lemon zest.
2 t kosher salt.
1 t cracked black pepper.
1/2 t red pepper flakes.
4 oz fresh spinach, shredded or chopped.
Combine all ingredients (except spinach) in a large bowl and mix well. Refrigerate for up to 24 hours (but at least a couple of hours) to meld flavors. Just before grinding mix in spinach. Grind with a medium cutting plate. Stuff into casing or form patties for cooking. Use within 24 hours or double wrap and freeze.
I did up about 10 lbs total however as an experiment I put 2 lbs of the meat mixture aside before I added the salt. I then added 1-1/2 teaspoon of Tenderquick per lb, a total of 3 teaspoons.
All of the ingredients except the salt/Tenderquick.
After the grinder using a medium blade.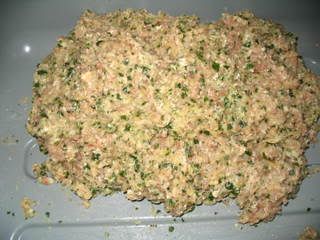 After splitting the mixture I stuffed the hog casings with the salted mixture for fresh sausage. Was getting hungry so I thru a few on the grill to taste. It was a little blander than I remember from the last time but still good.
The 2 lbs I pulled aside and added the Tenderquick to is pictured below. I let this sit in the fridge overnight covered and onto the smoker in the AM.
Smoked it @ 160o for about 8 hours until it hit 140o internal and then increased the heat to 180o until 152o was achieved. Below just out of the smoker. Cooled with water to 110o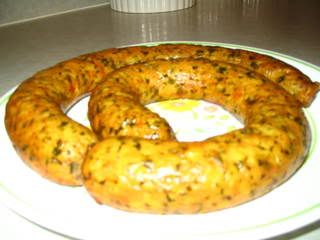 I must say that the smoked experiment was by far much tastier than the fresh. I'll be using this hunk of meat to make Red Beans and Rice with Sausage one night this week. And from now on I'll be doing only the cured/smoked version.
Thanx for looking!
Lou