OK, I didn't want to "junk-up " the silver lake thread, so I started another. I had a great time this weekend at the Apple and BBQ Festival at silver lake( Mears) Mi. I was there to help one of my new BBQ friends compete. He really doesn't need anyones help. He is a pretty masterful fella. He does have some issues with mobility( Hip troubles) but gets around nicely, and is a well respected compeditor, mentor and good friend to most comp teams on the circuit. Thanks for trusting me and allowing to help and learn Ford, I will always remember this weekend as my first large Comp, even though it wasn't my team, or cooker. We didn't have alot of faith in our turn ins, and the ones that we like least, seemed to score best.
We did manage a 3rd place in pork, and an 8th place overrall. When I do get the whole run down, or if someone else does, please post it here so we can see how the other Mich, and SMF teams did.
OK some pics.
These folks were part of the backyard competition. It is a smaller version of the KCBS, and you only cook ribs and wings, entry fee is 25 bucks I think, and they can win some money and a trophy.I may do this next year, if funds continue to be a desiding factor for my absence from these things.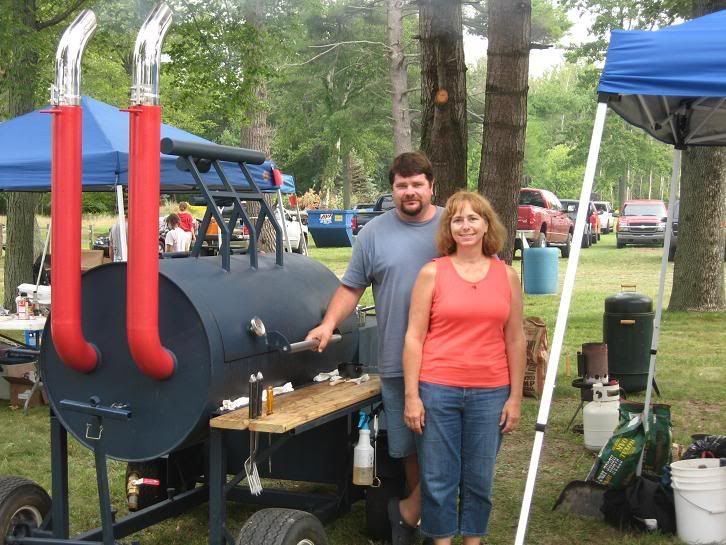 I am terrible with names and I am sorry, They placed first in ribs, and won the grand champion(overall scores). His pit is home made, and quite sharp. I think they are local, and I spend alot of time talking with them on friday.Very nice folks.
These are some more pics of the backyard division. There were 14 teams competing, and they ranged from a Lang 84 size to charcoal Grills, or ECB's.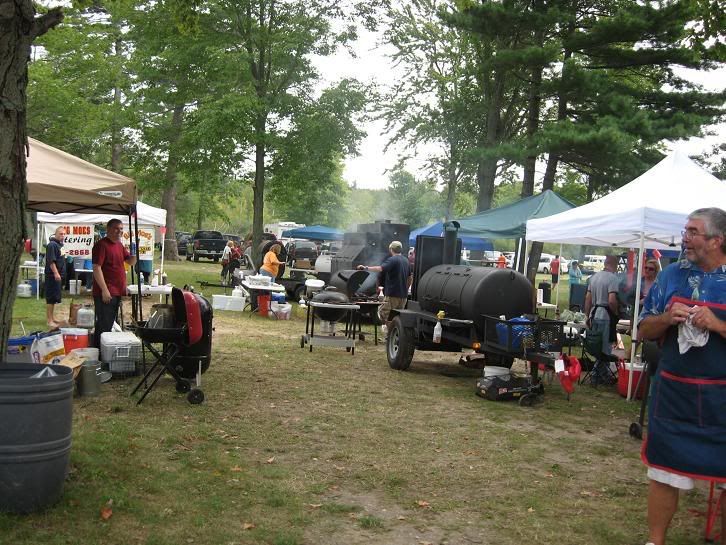 Lotsa nice folks, havin a good time! one more of that group!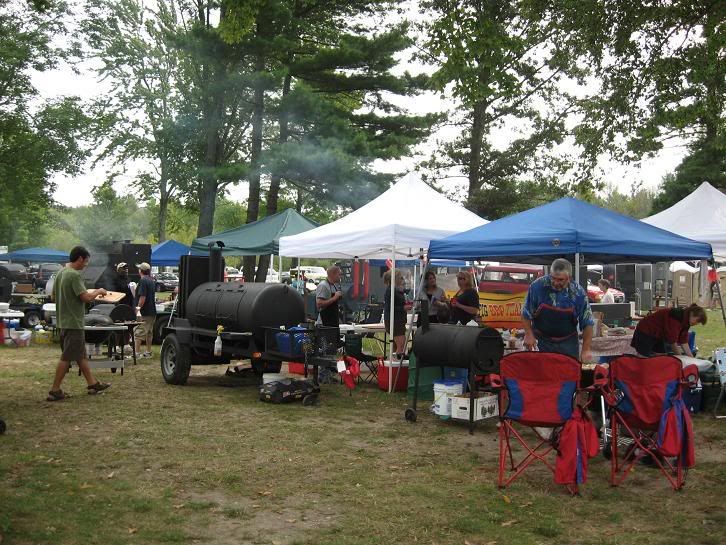 Now to the Big show!This is my friend Dale, he owns a catering company and also rents these pits out for parties and such.Great guy, who is partnered by his wife an an occassional friend.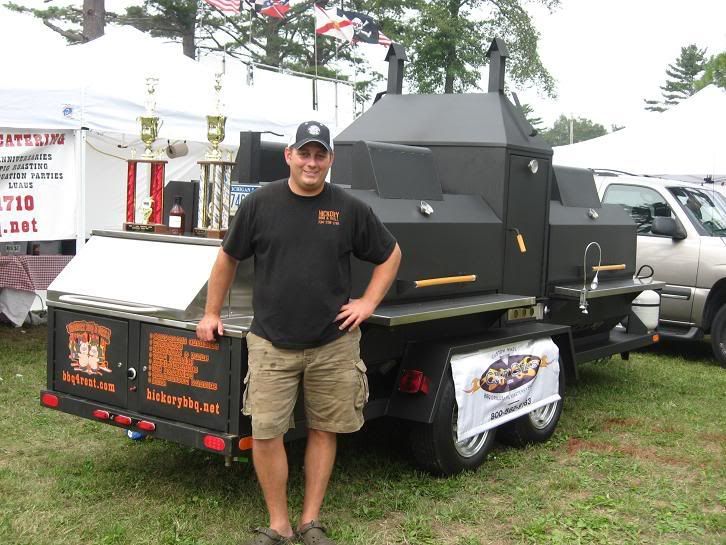 These folks are the Bates team, and they are alot of fun. I had a great time with them and their friend Marian(with the glasses).Marian came up from Florida to help them,we had many drinks together throughout the weekend. John, the team leader is not pictured, he is a busy bee for sure and is a huge part of getting these comps into Michigan.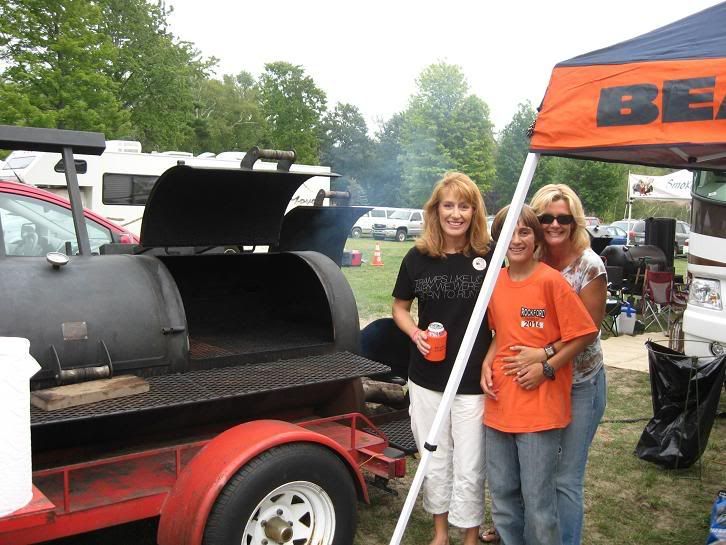 This guy, Matt had many awards, and his creative pit and site decorations were a big hit with many folks including me!His Lil Red Wagon team placed 4th overrall, ans he had a couple checks and trophies in hand. It was Matt's second KCBS event. How about that!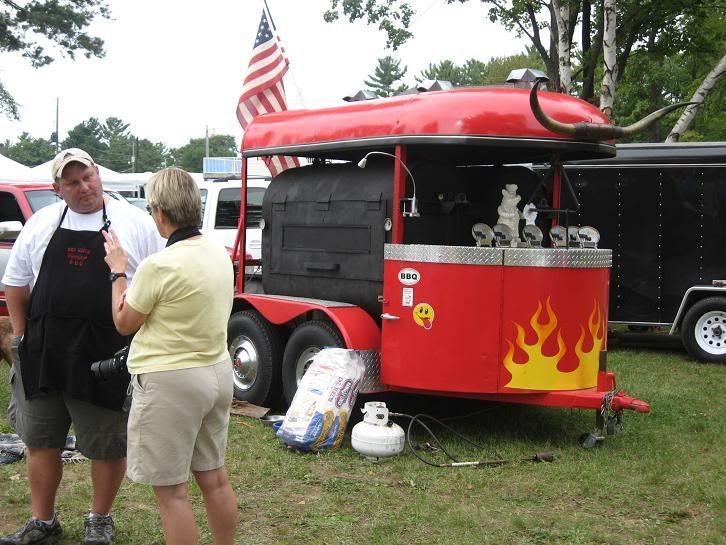 Alot of folks know these guys, Crewdog (far left) is a member of the Smokin scottsmen team( Tonto 1117 on smf) and next to him is BBQ Bubba, then his team member for RSS BBQ, and then Mike( spyder mike here at smf), and another member who I don't remember the name, sorry!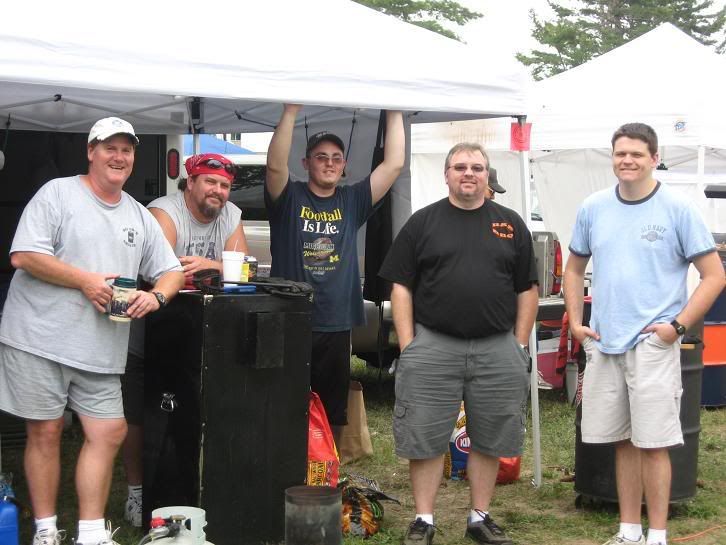 I wish I woulda got more pics, and saturdays pics turned out real blurry, maybe cuz of the rain and humidity, I don't know. I just wanted to give some of you a look at what goes on at these things. Lotsa families cooking together, along with crews that party all night long.
If ya ever get a chance to visit one of these comps, you should do it. Most of the time the admission is free or very cheap, the food is awesome, and the sights are many.If you ever get the chance to cook or participate in these events, the memories will last a lifetime!.