Master of the Pit
OTBS Member
SMF Premier Member
1,966
2,106
Joined Mar 8, 2017
Went through my deep freezer last week, and took inventory of what venison I had left from last year. Aside from a good bit of ground and some Cajun hot & spicy Italian sausage, I had about 12 lbs or so of roasts and scrap meat. I've been practicing my sausage making skills, so I set out to do something new.
I was reading on SMF one night and read a thread about PS Seasonings, and decided to try a few of their blends. This batch will consist of 12.5 lbs of venison and 12.5 lbs of pork, for a total of 25 lbs of meat. I split that in half and did the PS onion and garlic bratwurst and their spicy garlic summer sausages. I chose those primarily off of the reviews, but I've also been wanting to make green onion sausage. I figured the brat seasoning would compliment fresh green onion pretty well.
My new-to-me 1.5 #32 grinder is going to be a nice step up from my kitchenaide.
I like how the PS seasonings have the instructions laid out on a card. It's very helpful. I followed the recipe (1/2 batch) to the letter, except I added 6 bunches of green onion to the bratwurst batch.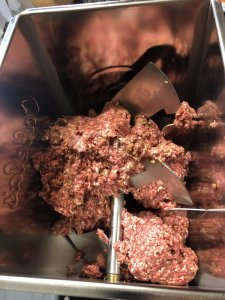 My friend who sold me the grinder, let me borrow his nice new mixer. It attaches directly to the grinder motor and was awful convenient. Not easy to clean however.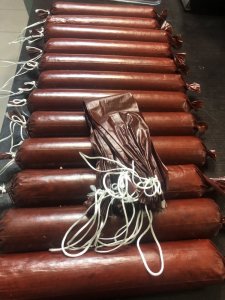 Summer sausage ready for an overnight rest in the fridge. Only because it was late and I'd run out of time to smoke.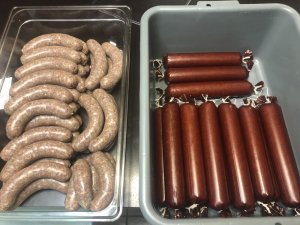 Green onion brats to the left and summer sausage to the right. Tomorrow I'll smoke the SS, and while it's going I'll grill up some brats for dinner.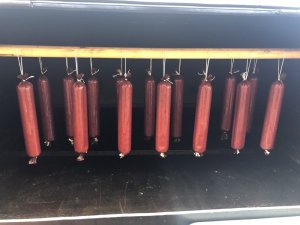 Summer sausage all tucked away in the Lang Fatboy.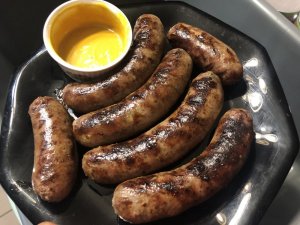 Brats ready to eat. We didn't eat them with anything they were so good.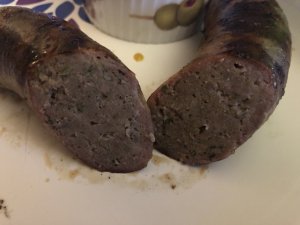 Not the best pic but the texture and green onion flavor were really good. My better half said they were her favorite sausages thus far. That was a ringing endorsement!!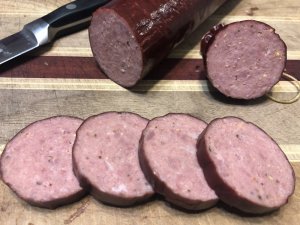 Really liked the summer sausage as well. I only had a few bites, and I'm betting it'll be even better tomorrow!
Overall I'd say this was a successful project. I'll have a lot of good venison treats to share with my hunting buddies at camp, as the season draws near!!