Legendary Pitmaster
OTBS Member
SMF Premier Member
★ Lifetime Premier ★
9,543
5,814
Joined Dec 14, 2013
I would still rather go with more of a lean ratio.
Joe , I've never had luck with store bought ground beef . Others like the sticks I've made with it , but just something I don't like about it .
Been buying a lot of beef knuckle and other large beef cuts from GFS . I saved the trim from from a brisket and some bottom round and ground it up for sticks .
Extremely lean . Best sticks I've ever made .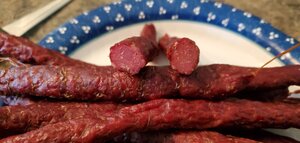 I like mine " dried " These were smoked to 152 ish then wrapped in pink paper and held in a 36 degree fridge for 3 or 4 weeks .