Smoking Guru
Original poster
OTBS Member
SMF Premier Member
Beef Short Ribs Char Siu style ( Chuck short ribs )
This is the start, I normally post the whole smoke/cook, but running out of time planning for the trip.
I know most think Char - Siu as pork , but this is me
( Char siu literally means "
fork roasted
" (siu being burn/roast and cha being fork, both noun and verb)
So started with 2 packs of chuck short ribs, they are stamped Family packs, they must think family of 1 per pack. And the price
BUT I wanted them
Put 2 in a bag with just Soya sauce for my sweetie, just incase she will not eat the real ones I am doing. ( must keep the peace )
Made up my marinate ( char siu sauce ) did not add the red food colour ( later ) , but this is a great colour already.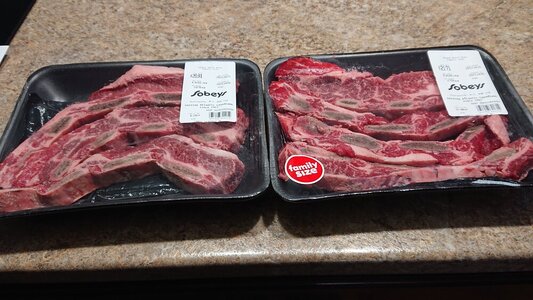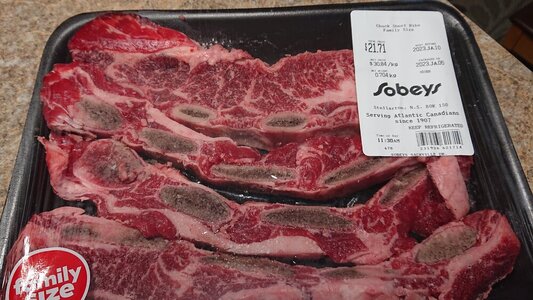 Bagged them both up and into the fridge for the day . Will smoke tonight when I get in from work.
Probably serve with our egg rolls and some noodles or rice.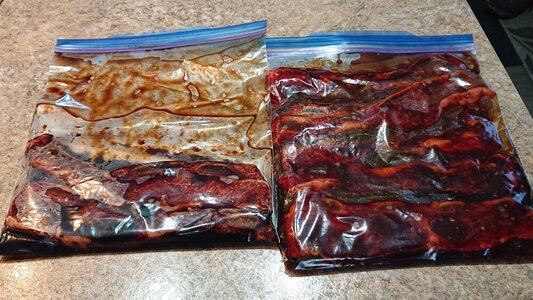 I will be back
David
There should have been some Muzac to keep you busy until I got back
Ok I'm back from work and here we go with part 2 .
It was a cold one here today -11 " C " = ( 12.2 " F " ) thank god not much wind. So I decided to used the grill and pellet tube.
We finally got rid of that terrible green grass we had so far this winter
Second snow , this time 5"-6", temp going down to -20 "C " Saturday.
Got the grill going at 350 deg. to melt off the snow, not bad up on the deck, and closer to the door tonight.
My 5 and Monas 2 are just starting nicely. Have the 4 outside burners going so ribs in the middle over low temp burners.
Starting the noodles and the last of our egg rolls. ( will have to make more when we get back ) Boiled up and reduced the Char Siu leftover sauce.
The noodles are new for me . They are Shirataki noodles , like little rubbery noodles , rinse than fry to get the moisture out than add to what ever you want.
I just added toasted sesame seeds and an oil based zesty herb dressing, very nice. Our egg rolls in the oven to get hot ( they were deep fried when we made them, and than froze, so still had a little oil in the shell, so that helped in the oven cook.
Removed Monas Soya Sauce ribs, and covered to keep warm while I glazed up mine with the sauce.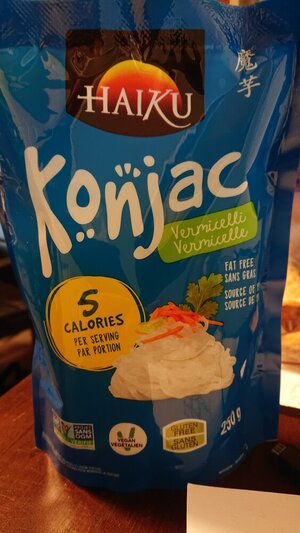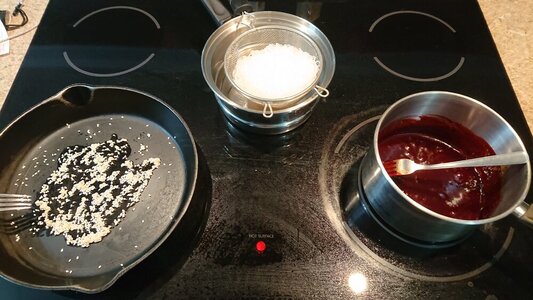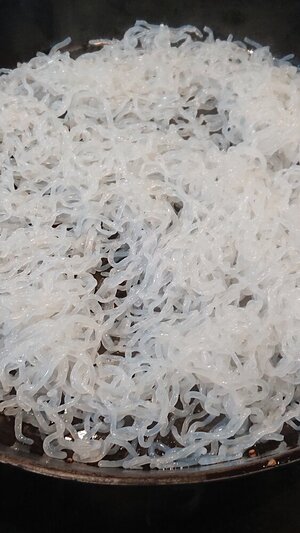 Glazed both sides , look great, had the porch light on so pictures are ok sort of.
Plated with plum sauce on the side , starter plate, lol
The sauce soaked through very nice , and the flavour was great. Love it
And of coarse we love the egg rolls , time to make more.
So all done and yes I went back for more. The noodles were ok, Took a bit to get used to the texture , little different from reg. Ramen noodles.
But the sauce I added was good , and these noodles have no flavour but take on what ever you add to them.
The Beef short ribs were great, and 1 of my favorite meats to have. Mona loved hers and would not try mine , because she loves her soya sauce.
I really like the Char Siu and will do this again with other cuts of meat.
Thanks for following, been a day .
Thank You
David
Last edited: