Does the sous vide hold mess up the bark?
Not in my opinion. Depends what you consider messing up the bark. If you are looking for dry crunchy bark then yes, I guess so. It does not cause the bark to rub off though if that is what you mean.
I will describe it this way... it comes out pretty much exactly the same as a tallow soaked paper wrapped brisket. That makes sense though when you think about it, because the suction from the vac seal will pull a small amount of the naturally rendered fat out of the brisket, coating the exterior, and as such it is basically a tallow soaked brisket, just in a vac seal bag rather than a paper wrap.
Here is a picture of when I did a while back...
Still in the bag: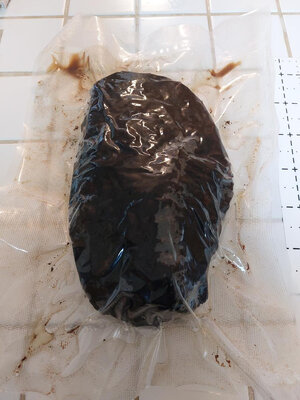 Opened up and on the cutting board: