Smoking Guru
OTBS Member
★ Lifetime Premier ★
6,232
3,231
Joined Dec 30, 2016
As the title suggests, I'm going to make my first attempt at making sausage in the next couple weeks during some time off from work, and I'm a little intimidated, so looking for some help. For equipment, I have a LEM Big Bite #12 grinder and a LEM 5 LB stuffer that I ordered about a year ago and I've never even opened them yet (I know, shame on me, it's been a crazy year but I'm ready to give this sausage making thing a try finally!)

First of all, I want to make sure I'm doing it safely due to the cold smoke requirement, and I understand I need to use a curing salt. I was going to order this pink curing salt, but want to make sure this is the right thing.

amazon" style="width:120px">

I'm planning to start off small since it's my first time and I have no idea what I'm doing. I want to do 5 pounds of Texas style all beef sausage, and 5 pounds of a jalapeno and cheddar type sausage. I'm wondering if anyone has any good recipees to follow.

For casings, I want to go natural hog and was just going to order these but wondering if there is a better place I should be looking. They're actually slightly cheaper on

Amazon

than directly through LEM plus free shipping.

amazon" style="width:120px">

For the Jalapeno and Cheese sausage, I know they make a high temp cheddar cheese for sausage specifically, but I seem to remember seeing a Youtube video with Texas sausage guru Bill Dumas that said he does NOT use that, he uses regular cheddar cheese and feels it makes a better end product. Wondering peoples thoughts on that.

Last, equipment wise, aside from the grinder and stuffer, is there anything else I need? Trying to get all my stuff together now, so that I'm ready to go when the time comes in a couple weeks.

Any help, or suggestions are greatly appreciated. Thanks!!!
1. Don't get those home packs (little plastic bag packs), get a better casing. Buying a "Hank" will cost more and give you a lot more casings but they are the good ones. The little home packs are all the left overs it seems.
2. Casing prep, casing prep, and casing prep!!!! Whether it's bone dry in salt or in a solution if you rinse and soak in water in the fridge for 5-7 days before using (read boykjo's post about this) then you will never have an issue. Doesn't matter if it's home packs, hanks, in solution, not solution, tubed or not. FYI, lamb casings will always be a little bit of a pain the ass being smaller and more delicate but I digress lol.
3. Get more acquainted with the sausage smoking process. If your smoker is going up to a 150F temp or higher you aren't really cold smoking. You may as well keep inching it up to 160F or 170F(as high as you want to go), then you may as well smoke until the sausage meat has an Internal Temp (IT) of 150-153F. They are done at this point.
Throw them on the grill to heat and eat, or smoke them hot at 275F to heat and eat or whatever to heat and eat.
If truly COLD smoking you don't need to apply any heat at all and in fact you want your smoker temp and ambient temps to be no higher then 70F degrees for the whole cold smoke.
Also, I stuff cured sausage, vac seal, freeze, and end up just grilling them all the time rather than taking the time to smoke them. They come out tasting fantastic. They are different than smoked but still fantastic. I do this with Franks all the time.
4. Equipment, get 3 of these meat lugs/totes at least - Academy has the best prices: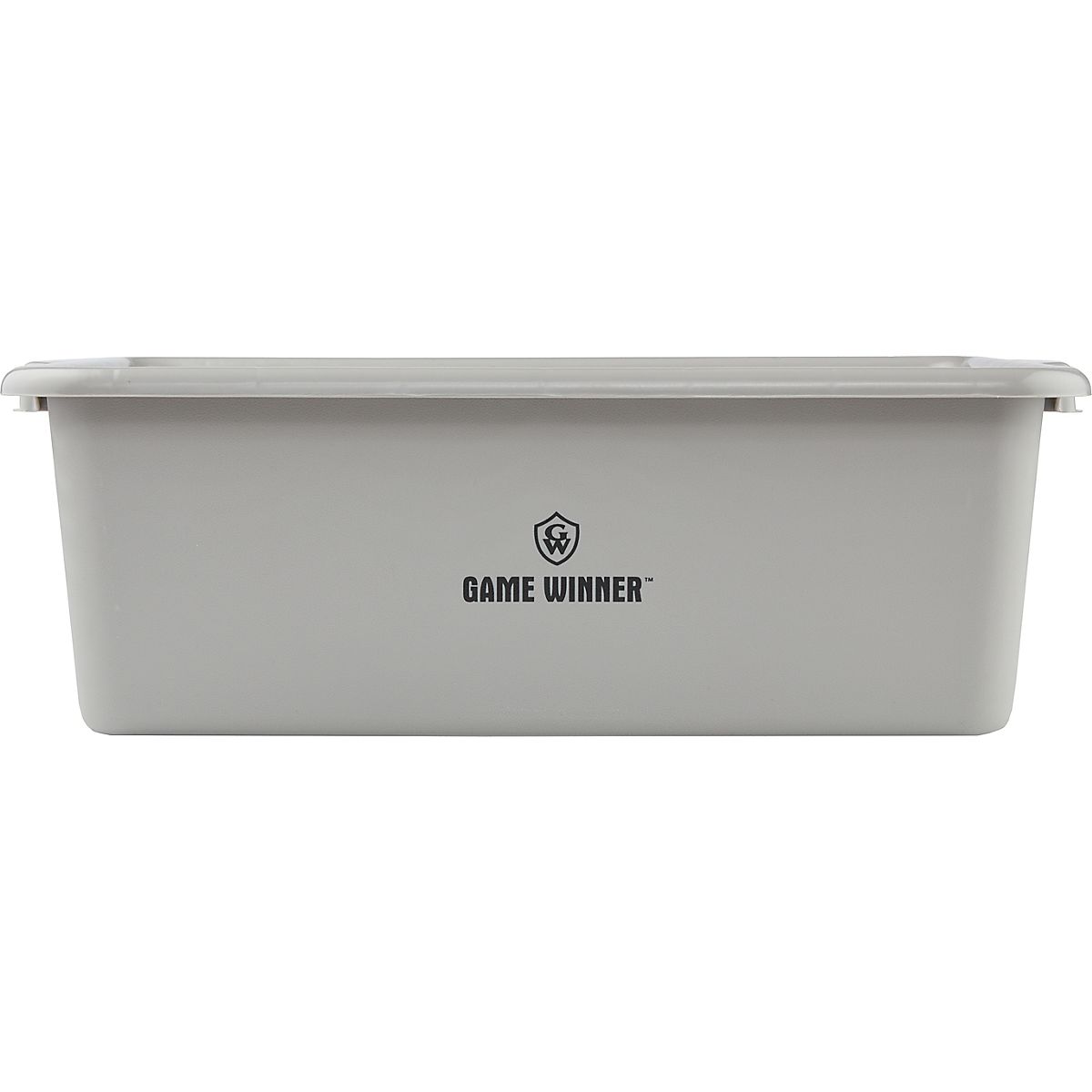 Mix large quantities of meat with help from the Game Winner 7 in Meat Lug, which is made of food-grade PE for safety in the kitchen. Complete with a handle f...

www.academy.com
Why 3? Tote 1 to catch your ground sausage meat. Then you mix your seasnings by hand, if doing by hand. AVOID BOX MIXING MACHINES!!!! Hand mixing is the way to go for 10 pounds or under. if ever mixing 20 pounds or more and doing like 40-100lbs or sausage total then we can talk other options but know the box mixing machines are a freaking waste of time!!
Tote 2nd you will use to store your sausages as you stuff them. Just stuff in giant coils and NOT TIGHT stuffing. Think like 75-80% casing capacity. You will need to twist and link them and if the casing is stuffed tight you will break it and have blow outs. Plus a really tightly stuffed casting will burst on the grill or in the oven so not maxing it out gives you nothing but benefits for the most part.
Tote 3... do whatever you want in it because the 1st meat tote will need to be washed before reusing. That ground sausage meat makes a mess and you don't want to transfer linked sausage to it. Solution? Have a 3rd clean tote, go wash dirty ground meat tote #1.
Having 3 means 2 are in use while 1 can be washed and/or ready for anything else the sausage stuffing process throws at you :)
To be honest if you plan to do multiple batches at a time it's best to have 4 totes and an empty garage fridge. This way you can grind and mix two batches of sausage into 2 separate totes and they will be full. Tote 3 will be ready to take both stuffed sausage coils and then tote 4 is the spare clean one for whatever you need. I link and then cut the links and place them in my empty tote 4. Then wipe out tote 3, vac seal the links and put the vac seal bags back in tote 3. I then write on/label the vac sealed sausage links and put in the freezer. Total assembly line style! :)
5. A quality vac sealer and pre-cut bags. Buy them pre cut, dont waste time making them. Plus you get more for less money when you buy precut, win-win. A quality vac sealer will run you like $275+. These machines are notorious for crapping out or working for like 2 weeks, 1yr, and then never being able to provide proper suction again. This is one of the best examples in the world of pick a reputable brand and then buy once and cry once about it then live happily ever after haha :)
I think that is it along with all the other great info the guys are giving you. I hope this massive amount of info helps out :)