3rd straight weekend of grilling oysters, 2nd weekend of fresh Blue Points from Whole Foods. Instead of the garlic butter, then bbq sauce topping I was doing I changed things up a little this time.
Found a recipe for a mango pico de gallo by Bobby Flay.
1 mango diced
1/2 red onion diced
1 jalapeno diced
2 tbsp oil
2 tsp honey
1/2 lime
3 tbsp cilantro
refrigerated for a few hours, then brought it up to room temp before using it as a topping for the finished oysters.
Put the unshucked oysters on the grill and covered it for maybe 5 minutes til they steamed themselves open. I took them off the grill, popped em the rest of the way open, and served them on the halfshell topped with the mango pico de gallo, and a dab of horseradish. Pretty nice, fresh tasting, and alot of flavor. I think I prefer raw, or grilled with some garlic butter, but these looked nice, and were a good change-up.
Blue Points:
mango pico:
on the weber kettle: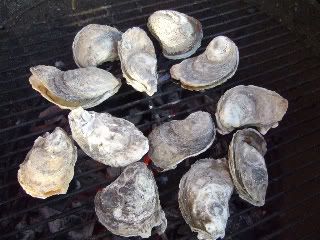 done: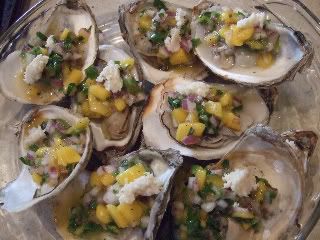 thanks for looking