Mornin!
We had a house warming over the weekend and I was put in charge of the Q.
Here was the scene at 0800 the morning of the party. 20 fat chickens + 2 yardbirds, 2 racks of ribs, 10 pounds of wings and 4 old school fatties (out of frame).
It's only my fifth smoke, but what I've had success with so far is using Tenderquick on about everything. I rub 1/4 Tbsp on the chickens (per pound) and for the fresh pork fatties I use 1/2 tbsp per pound. Covered in the fridge overnight they really soften up, and seem to stay moist during the smoke. Gonna try my first brine next time.
Here's the 'fatties'. Just the fresh pork with TQ and Thai chili's inside. Standard brown sugar based rub w/ fresh pepper on everything.
Fast forward to mid afternoon. Forgot the Qview on the wings when they came out, shame because IMO they were better than everything else.
My cooker is a beast. I'm still sorting out a few problems. I'll do a thread on the cooker itself when it's a little more 'done'. It's a brick propane homebuilt and I used tamarind and apple wood for smoke.
Here's the Thai fatties. Those chili's are a 7/10 on the heat index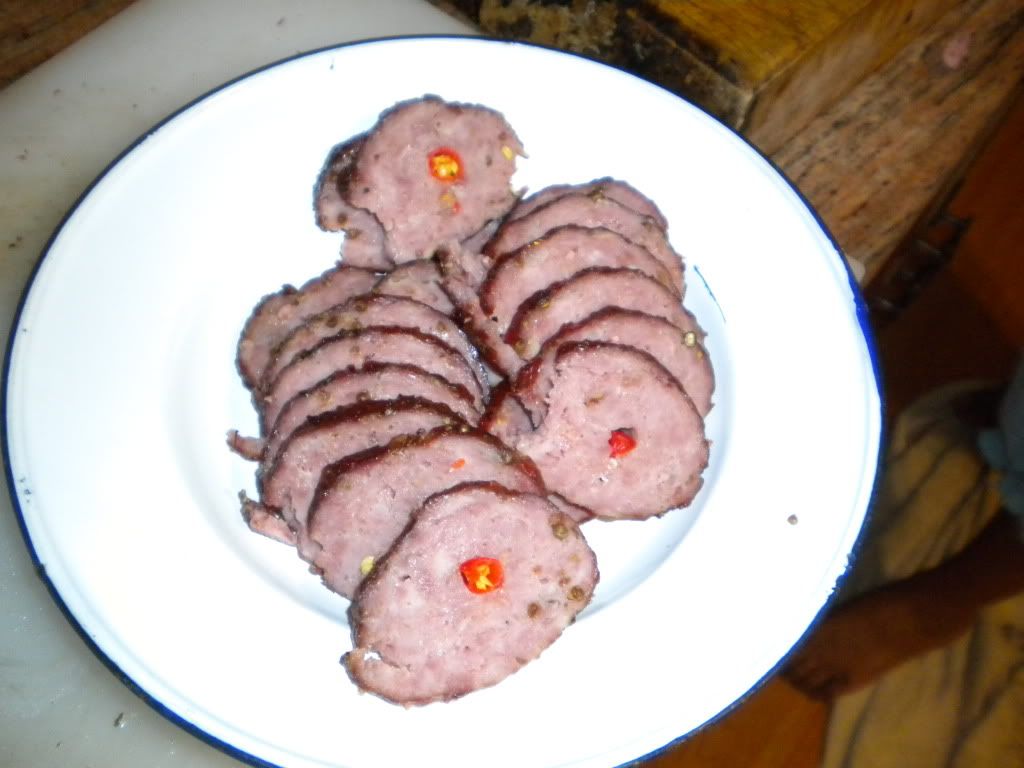 And the chickens were JUICY! I've been keeping the water pan full the whole smoke. The food isn't mushy but I might start leaving the water pan empty at the end. Could use a little advice here.
Everyone loved the food and had a good time. I had a few problems, though.
Unfortunately I caved into 'hungry people peer pressure' (take it out, take it out, it's done!) and took the chickens out at 155 deg
I'll never let that happen again. I also hadn't cooked that moch food in the smoker before and had a hell of a time getting it up to 225.