Was searching different smoked this and that sites on the internet when I came across pig peckers, I realized I had never made them so figured I would give it a try.
Before the smoke begins I want to share the work shoveling out the path to the smoker.
I used to store it on my porch but recently moved it out to where we store the mowers and other machinery.
As most of you know and many others experienced our part of the country got a LOT of snow recently.
Here's my path-started out the front door heading away from the house over towards the field...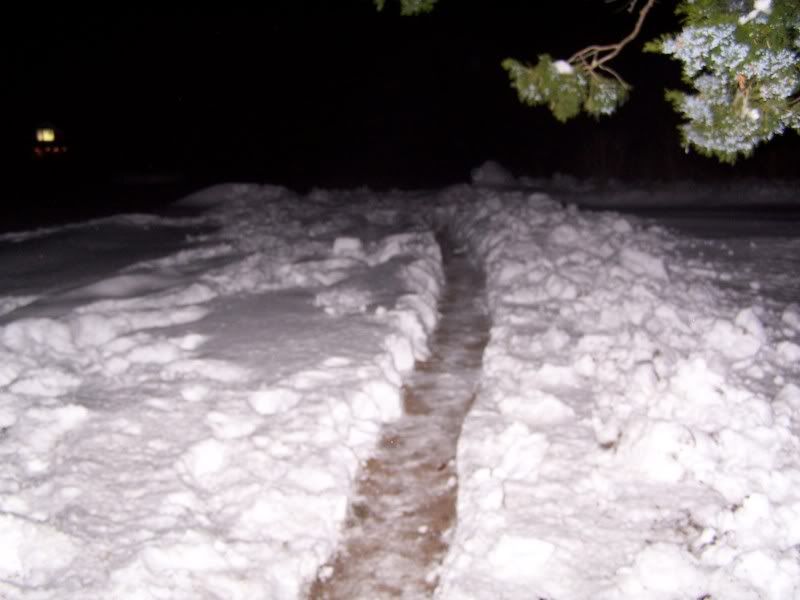 Make a right by the compost bin...
Keep straight and to the left of the winter rye, it's down there somewhere...
Make a left by the blueberry bushes and then a right after the next compost bin...
Looking out...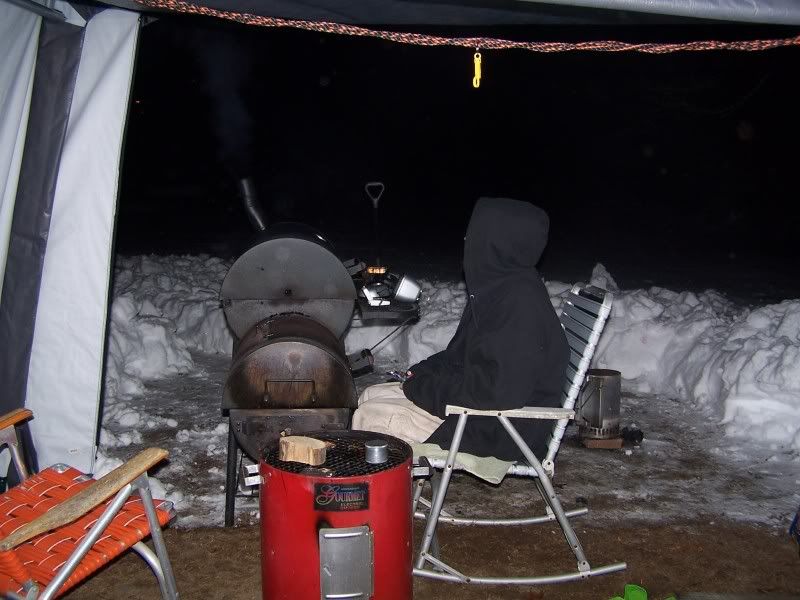 I was told several times I was crazy for digging out that path just for some smoked meat, but damn that! A little snow, or flood, or end of the world will keep me from smoking.
Now...on to the food.
First the fattie.
Only option the store had was Hatfield sausage, personally I use JD sausages but this will have to do.
Mixed minced garlic and chipotle rub with the sausage.
Tossed some shredded mozzarella, fried garlic, Italian seasoning, extra oregano, crushed red pepper flakes (not shown) placed on plastic wrap, squeezed into a firm log and into the freezer for 10 minutes.
Split the sausage, cheese in, seal and more rub on top.
Now the peckers.
A raw breakfast sausage link wrapped in bacon and rolled in brown sugar and cayenne pepper, and of course I did some with chipotle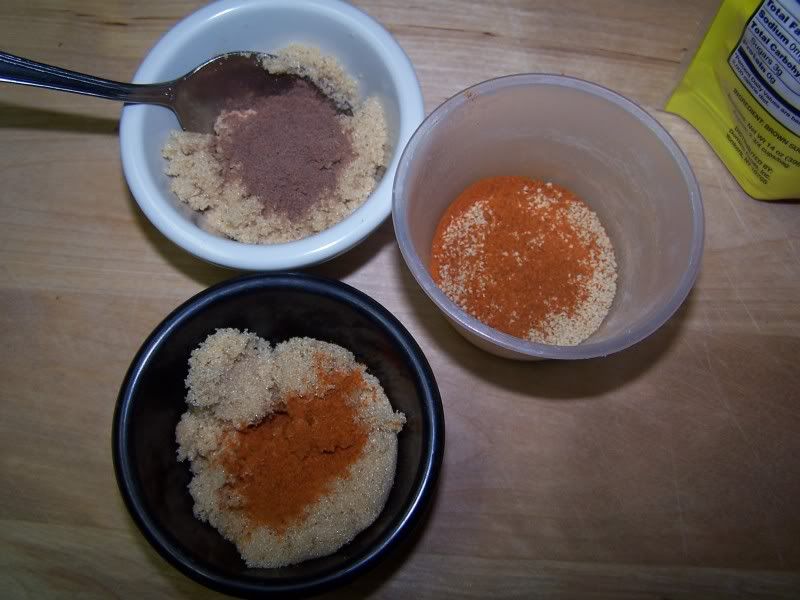 2 are regular brown sugar one with cayenne and one with chipotle, the other is Brownulated sugar with cayenne, it is supposed to be free flowing large granules of brown sugar but unfortunately has very little brown sugar flavor to it.
Cooked the bacon slightly before wrapping
Into the smoke, 225-250 over oak.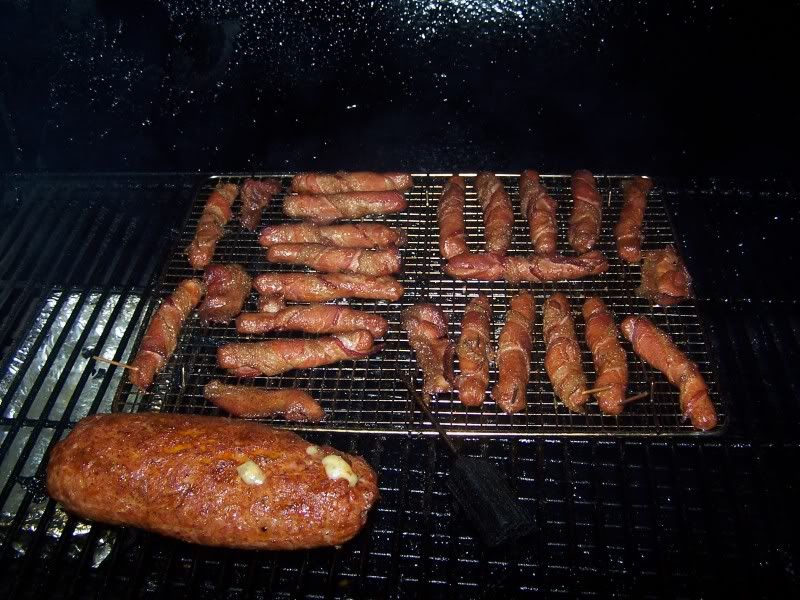 Little blowout on the fattie...they say it is a very common thing and I shouldn't feel like less of a man because of it
Pulled fattie at 165 and peckers when they looked good, 2-2.5 hours.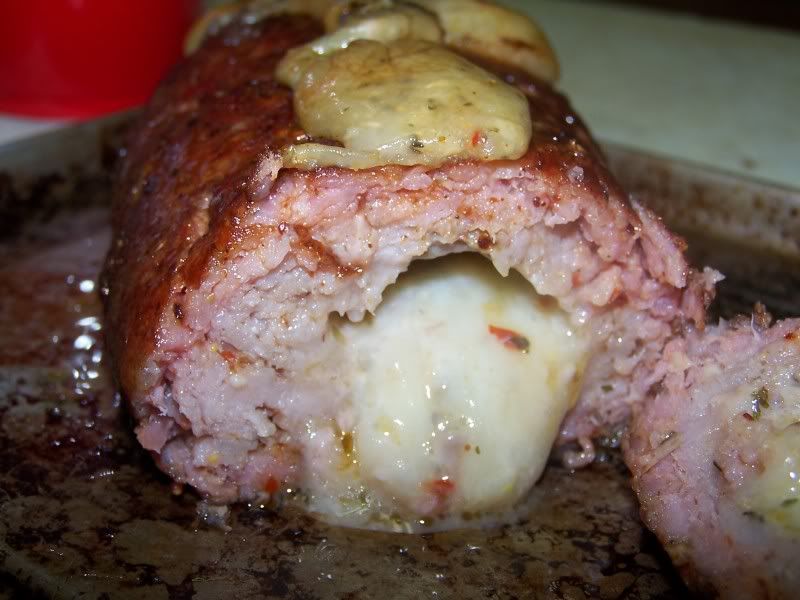 Peckers and a few slices of pig candy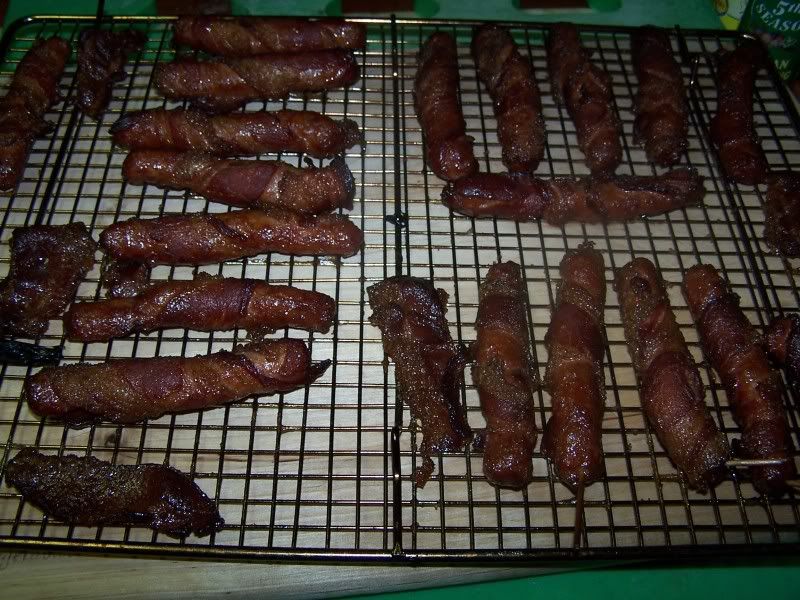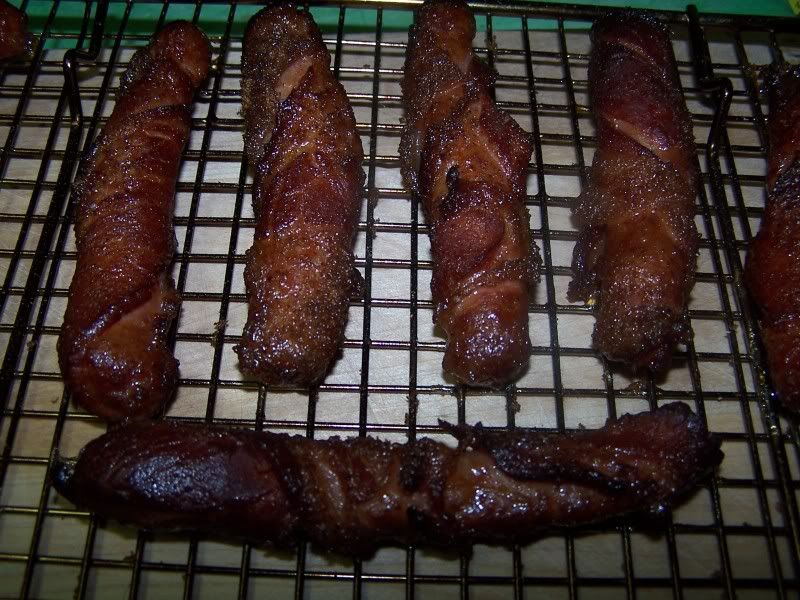 Pig peckers were great, smoky, meaty, bacony, sweet with some heat. But they are definitely something I won't make often.
Sausage wrapped in bacon coated in sugar...now that's healthy!
It may not be good for the heart but is definitely good for the soul
Now I'm out the door to throw a chuckie and a honey chipotle turkey breast on