Having built a propane smoker, I was wanting to test it on something. Looking over Rytek's book, I noticed a recipe called Cervelat Summer Sausage (page 359, 4th Edition), which called for, among other things, beef hearts. Just so happens I had some frozen beef hearts left over from a piece of calf we got from friends, along with some beef chuck and pork fat. With all that I was ready to go. I pretty much followed the recipe to the letter, except that based on previous experience, I wanted some coarse pepper and whole mustard seed (for flavor and appearance), so I added 1 teaspoon of coarse cracked black peppercorns and 1 teaspoon of whole mustard seed. Just for grins, when you measure out your spices, try to touch each one to your tongue to ID what the flavor is. That way, later on, you will recognize it if it shows up too strong. The pepper was extra and I can notice it (other say they can't).
Process was to grind the chuck and hearts with a 3/16" plate, leaving pork fat coarse, then with all spices, into a fermentation tub for 2 days: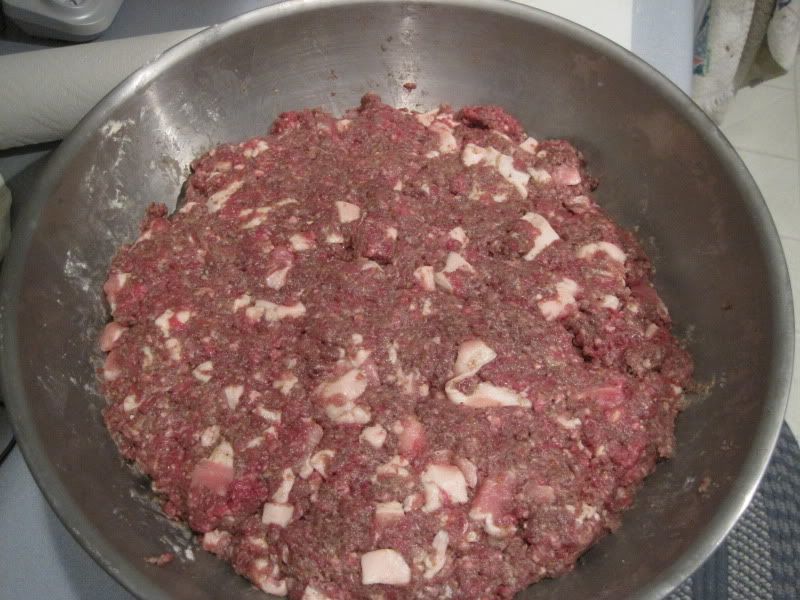 "After two days, pull it out and regrind through a 1/8" (!!) plate".
I only have one grinder with a 1/8" plate, my #22. That was a workout. For the first time in a long time, I broke into a sweat trying to grind something. I'd say this juice isn't worth the squeeze. Stick with the 3/16" plate:
That was stuffed into casings in the morning. Three of them pulled out and cold smoked for 6 hours (pretty heavy) and 3 of them saved back to follow the instructions to the letter.
The regular smoke session started out at 6 AM. Smoker warmed up to around 125* to 130*, sausage in for about 45 minutes to dry out, then 5 hours of moderate to at times, heavy hickory smoke at the 130*. Then temps ramped up to 160* or so for several hours. As per the recipe, final temp goal was 145* for the sausage.......not the 152* most of his recipes call for.
I kept close watch of temps all day. Both digital and dial on the barrel. They stayed together:
To get an idea how long this takes, I charted both the smoker and sausage temps, all day long:
What I noticed from this was how the sausage seemed to maintain about 30 degrees of separation from the smoker temps. Get the meat to within 30 degrees and it would plateau. That started to happen at 3 hours. Meat got up to around 100 and stopped rising. Once the smoker temp was raised, the meat started moving again, until it got to 132*, then hung there for over 2 hours. Again, that 30 degrees of separation.
What to do? On the package my sausage casings came in were a different set of instructions from Ryteks:
Smoker temps to 170* or 180*???? As I didn't have all day, I pushed the smoker temps on up to 170* (Rytek's upper limit), and watched the sausage temps start moving again. Again they stopped. Executive decision time. I pushed them on up to 180* and the temps then bumped up to my goal of 145* and after 10 1/2 hours, it was declared done:
Out of the smoker, the smell of hickory was very noticeable. It hit you when you walked into the room. After the water bath and blooming (2 hours).....not so much. In the sausage.....hardly much smoke flavor at all. It could handle more. Casings were dry....temps were right. To overwhelm this with smoke would require a heavy fog boiling out. Something I didn't do.
But all in all, a good smoke. The real test is will anybody eat it, and it's going fast!