After a day of raspberry picking, petting zoo visiting, apple picking, and a less than stellar lunch I stopped on the way home, and picked up a small slab of BB's for a snack for the football games saturday night. I wasnt going to smoke this weekend, but had to do it.
My ribs have really taken another huge step forward as of late, I started making my own rub, as I have been unhappy with the store boughts. I researched ingredients, ammounts/types of spice, etc, and have come up with one that is to my tastes, very little salt, some sweetness, and some cayenne kick.
Rubbed the ribs, and got them on the smoker around 3:30. Ran the smoker around 230, and the smaller rack passed the bend test around 7:00, I took them off, and tented them in some foil with honey, some rub, and some apple juice, and put this rack back on the smoekr for 10 minutes. Pulled, unwrapped, and lightly glazed the 1/2 slab with Open Pit bbq sauce. let it rest for 10 mintes, and ate... really good. The glaze method I am using really works for me, the residual heat of the ribs while they rest makes the light glaze really good.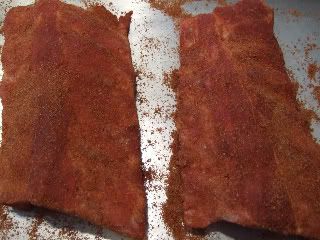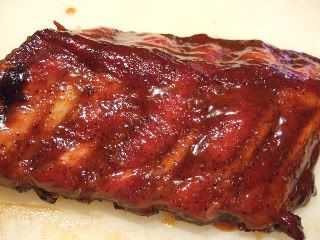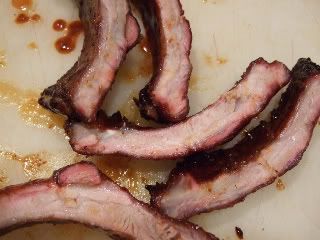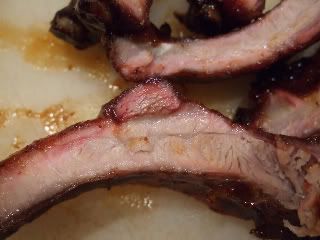 I let the meatier 1/2 rack on until the 4 hour mark, then pulled and tented with foil the same as above, but put these back on the smoker for 30 minutes. Pulled these, and glazed them with a Chinese bbq sauce I got in Chicatown a few weeks bac(really sweet, and a hint of hoisin). Let them rest 10 minutes, and instead of slicing the ribs, I pulled them apart, tender, still some pull, and also really good. Both were winners imho.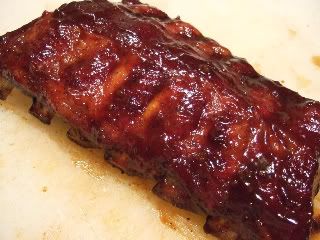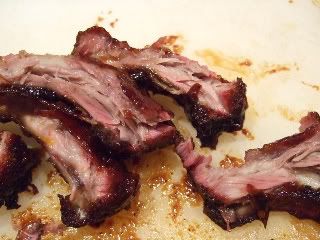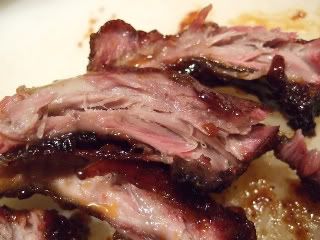 fixin to go down and eat a couple of these cold from the fridge right now.
Thanks for looking.