Made a bbq spaghetti a couple weeks ago, and it was a hit. This time I used ground pork I molded into a loaf, and smoked. I am also smoking some garlic for the sauce.
The pork is done, and looks nice, just a basic mealof mold, and some bbq rub ontop.
The sauce will be:
1 jar marinara
1/2 cup bbq sauce
1 onion
1 green pepper
1 head smoked garlic.
I will sautee the onion, and green pepper, then add the sauces, and the smoked meat and garlic. I will simmer for oven an hour.
I will mix the meat sauce with the 1# cooked spaghetti, and then top with thin slices of fresh mozz, and some parmesan. I will smoke until the cheese melts.
here are the pics of the pork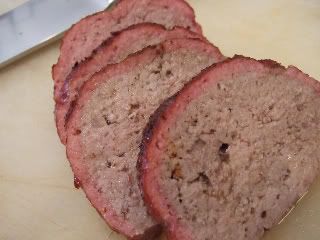 more pics to follow as the day progresses. thanks for looking