we were at a cookout and the propane guzzling grill decided to choke, I'm feeling its the regulator. in other news, a friend said "if you can cook charcoal I'll give you one my neighbor gave me". we went and got it, cooked on, and home the umm... "new" grill came. if I'm going to keep it. it's got to be turned into a smoker as well, and will forever be the travel grill and smoker.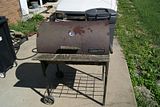 it needs some cleaning and some love and new wood, but it came with the grates and it cooked. you can't hate the saver of a party.
I should add, i really don't know what it is. so if someone could let me know what model it looks like, would be nice. thanks!