Tackled a pastrami yesterday using a store bought corned beef. A 3# flat cut that I soaked in water over night, changing the water out every 4 hours. End product was not salty at all. I rubbed the corned beef right before it went on the smoker with cracked black pepper, garlic powder, and corriander, a 3-1-1 mix with the pepper being the "3" componant. It produced a flavorfull, peppery pastrami.
A windy day, so my smoker temp was between 245, and 255 all day, I used Cowboy lump, and added a couple mesquite chips ever 45 mins or so. Took a while to get the pastrami up to a temperature I was comfortable pulling it off the smoker. I started at 10:30, and finall pulled the pastrami off the smoker @ 5:30 when I finally got 170 degrees. I then put it on a rack in a pan, added boiling water, and covered with foil. Into the convection oven @ 250, and I pulled it out about 2 hours later when the meat hit 195. I was hungry, and didnt want to wait until 205 degrees. I then double wrapped the pastrami in foil for about 30 minutes, and sliced it. Damn fine product I turned out on a first attempt. Peppery, flavorfull, tender, and juicy, it made for an excellent Rachel sandwich with the Russian dressing I made earlier in the a.m.
The temperature stall was frustrating, but I wasnt under much of a time constraint other than the White Sox game @ 7:00. I just ook my time, drank 10 or so beers, and a half a flask of tequila, and listened to the blues, and got some sun.
I enjoyed the smoke, and the end product, mostly due to all the tips I got on SMF, and other sources throughout the week.
corned beef out of the pack: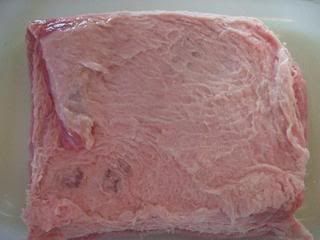 beef after the overnight soak: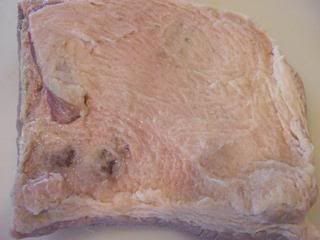 rub: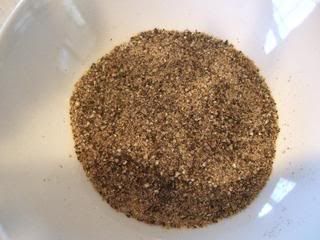 rubbed corned beef: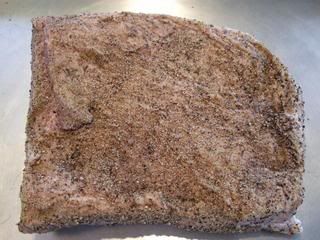 Just getting started: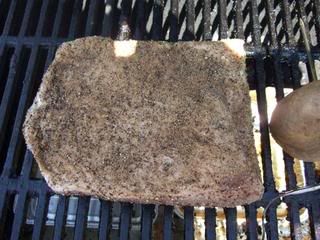 170 degrees off the smoker: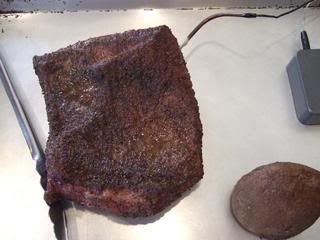 after the steam & wrap: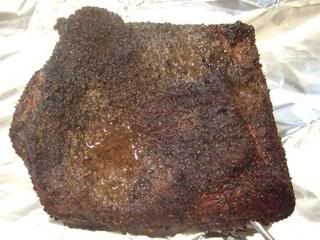 slicing:
slices: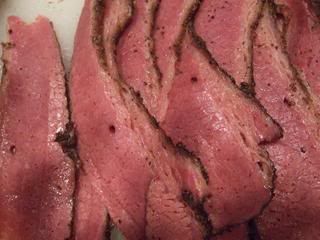 Rachel: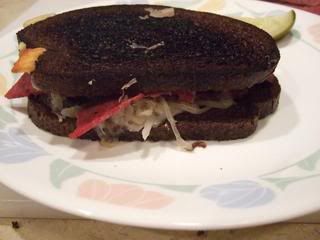 thanks for looking.
slainte.