Here some shots a the 50th Anniversary we cooked fer this past weekend. Did 80+ pounds a pork butt an 30 pounds a brisket, Smoke in the Hollar beans, cake, nuts an chips.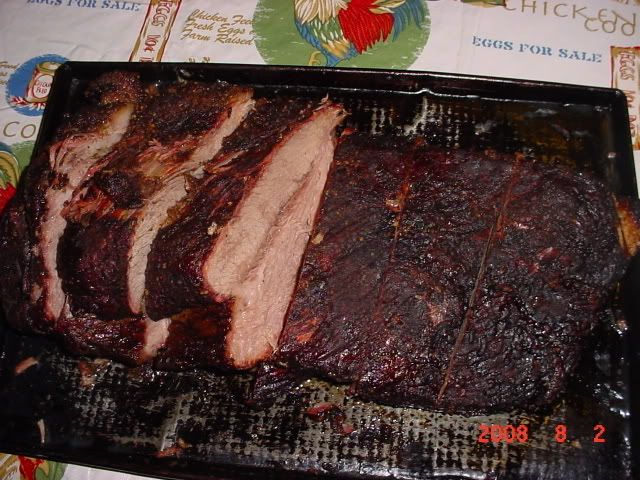 Here's one a the briskets, these came out really well. One of the fellers at the party is from Texas. He said I could sell my beef anywhere. Thought that was perty high priase from a Texan!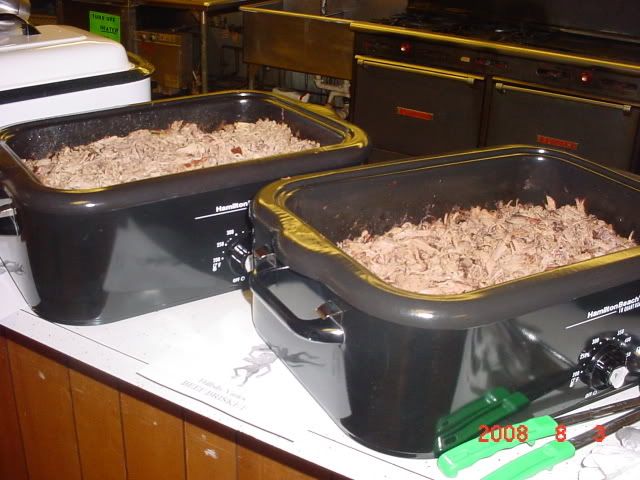 Here's a shot a the roasters, one on the right has the brisket, one in the middle is the pulled pork an the white one on the left has the beans. Had some folks from Oklahoma who said they would try it, they eat alot a "Q", they said was some a the best they ever had. Musta been, they came back 3 times!
An here's one a me in my monkey suit! I made up a vinegar finishin sauce fer the pork an my version of the Mahogany sauce. Folks used em on both pork an beef. Everyone wanted the recipe fer the sauces. The beans were a big hit as usual.
We had some left overs, but not many. Next time think I'll do a bit more brisket though, thought the pork would be the runaway but we didn't have any brisket left ta bring back!