Hello again!
First, I want to thank everybody who sent replies to the first installment. This forum is a fantastic resource and the members here are the best!
OK...so I have a smoker...it has been seasoned...what next?
I had a difficult time deciding what to smoke first. Pulled Pork, Ribs, and Brisket all sounded good and there were all kinds of helpful suggestions to be found here on SMF. But it finally came down to the two main things I bought the smoker for in the first place...real New York City deli Pastrami, and Smoked Beef Tongue. I couldn't decide which I wanted more, so I decided to do both! Here's a picture of what I started with:
The "Cheater's Pastrami"
I have done a lot of research into Pastrami over the past few weeks. One school of thought says that any Corned Beef that is smoked is Pastrami. Others insist that "real" Pastrami must start with a fresh plate or brisket that is then dry-cured and smoked. I have also heard it said that the Pastrami served in New York's delicatessens today is brined and injected, not dry-cured.
Since this was my maiden smoking voyage, I decided to try what some have called "Cheater's Pastrami". I bought the largest commercially-produced flat-cut Corned Beef Brisket I could find locally (just under 5 lbs.)and I used a modified version of DeejayDebi's Pastrami Rub (no juniper berries):
5 Tblsp Black Pepper, coarsely ground
4 Tblsp Whole Coriander Seeds, coarsely ground
1 Tsp Garlic Powder
1/2 Tsp Paprika (Sweet)
I started by thoroughly rinsing the Corned Beef in cold water and then I liberally coated every square inch with the rub, making sure to press it into the sides and ends.
The meat was then placed into a large plastic bag and put into the refrigerator for three days (turned once a day). Easy enough!
The Smoked Beef Tongue
WARNING: This section shows graphic pictures of cow parts that some delicate souls may find offensive! Please proceed with caution!
For those of you who have never tried smoked tongue, I would really like to recommend that you do. I grew up eating this "delicacy" and it is as good in cold sandwiches as it is hot with boiled cabbage and potatoes. For many years, I have tried to find pre-smoked tongues like we used to buy in Connecticut when I was young. A company named Freirich's still markets them in New England, but there is no distributor here in Louisiana. Even fresh tongues were hard to find until recently, when an influx of Mexican labor in the aftermath of Hurricane Katrina helped to bring the fresh tongues into our local markets.
I purchased a 4 lb. fresh cow's tongue, washed it in cold water, and made a brine to start the curing process (thanks to Joe B. on the Cookshack Forum for this one):
20 cups Cold Water
1 cup Morton's Tender Quick
1/4 cup Garlic Powder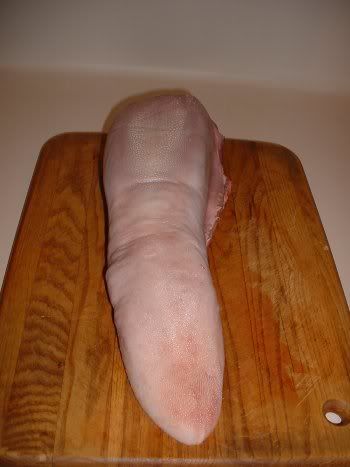 I put all of the brine ingredients into a large stockpot and brought it to a simmer to dissolve everything. After allowing the brine to cool completely, I used my trusty "Cajun Injector" to pump as much brine into the tongue as possible. The entire thing was then submerged in the remaining brine, weighted down with a plate, and put in the refrigerator for three days.
Special Note: I have seen some Smoked Tongue recipes that call for parboiling the tongue first to remove the tough outer skin before brining and smoking. Every Smoked Tongue that I ever ate still had the skin on when it was served...so I did not pre-cook it and I left the skin where it was.
Ready to Smoke
The following photos show what I had after the three days of curing: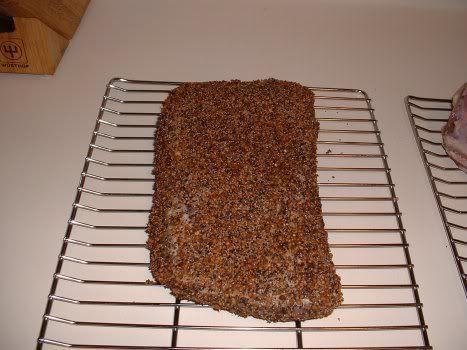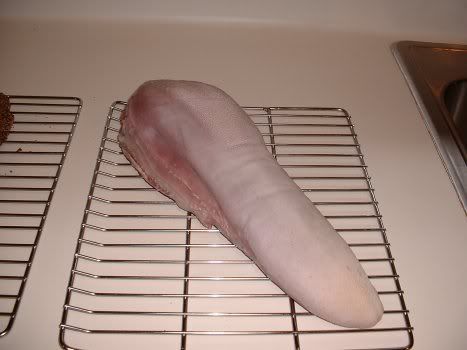 So that's it for the prep work and that's the end of this thread.
In the final installment, I'll cover the actual smoking and the final results, as well as the lessons I learned.
Thanks again for stopping by!