A tip of the hat to Dutch, and his great smoked bean recipe. I wanted to do a few twists
heres what I used:
(2) 28 oz. cans Bush's baked beans orig. recipe
(6) pieces bacon diced
1 jalapeno diced
1/2 green pepper chopped
1/2 yellow onion chopped
* (1) cup fresh pineapple chopped
* 1 tbsp. sweet relish
* 3/4 lb. sliced, smoked kilbasa
1 cup brown sugar
1 cup ketchup
1 tbsp dry mustard.
just added some more meat, fresh pineapple, and sweet relish for another layer of flavor. Everything else was done the same as the classic. Got these on right now under 3 slabs of ribs catching the drippings:
veg/pineapple: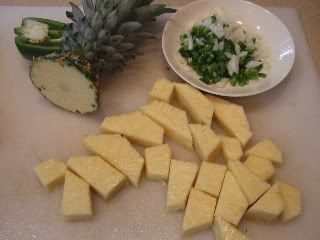 smoked kilbasa:
ready to mix:
ready to smoke: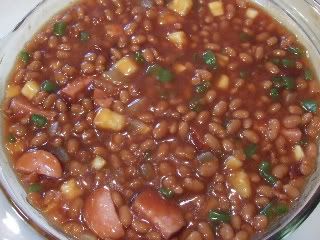 finished pics in a few hours.