You had to know didn't you.
I was trying to come up with something out of the box and I was thinking of mu favorite chicken dishes. Chicken Cordon Bleu, Buffalo Wings and Teriyaki chicken. I thought why not combine it all in a whole yardbird. I wasn't sure what to call it at first. I could only come up with "Franken Chicken". like Franken Stein...
It starts with two pieces of Black Forest Ham rolled up around some garlic & herb cheese and Jack Daniels Honey Dijon mustard. I make two of these. I then cut open a cavity in each breast and pour in some Zesty Italian dressing. For flavor and it makes getting the ham rolls in much easier.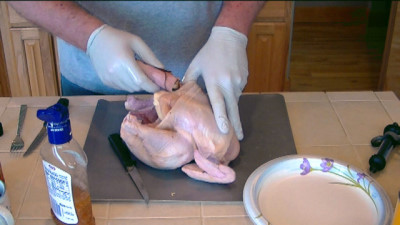 Once they are both inserted I mixed 3 tbsp melted butter and 3 tbsp Frank's RedHot for buffalo sauce. I injected the wings with the buffalo sauce for Buffalo Wings. All this is on the bird by the way...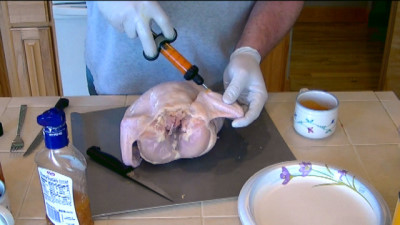 Next I mixed 1/3 cup Yoshida's and 1/2 cup pineapple juice for a sweet Teriyaki. I injected this into the thighs and legs.
From here I mopped the bird with butter and dusted it with garlic powder. This was followed by a mopping of Zesty Italian dressing and then McCormick's Sweet & Smoky rub. then I rubbed in some brown sugar and a dash of Mrs. Dash. A low & slow smoke on the Traeger tp 165 degrees produced a very tasty bird.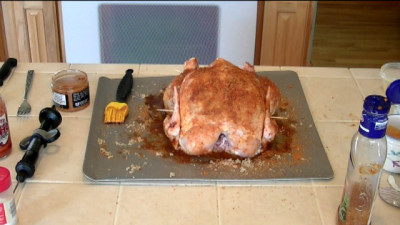 This is a fun smoke for the family. A little something for everyone. My only regret is not making at least two.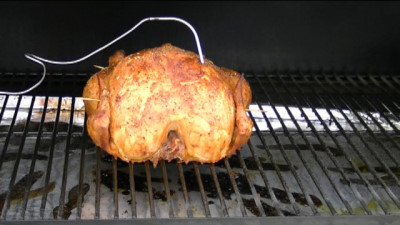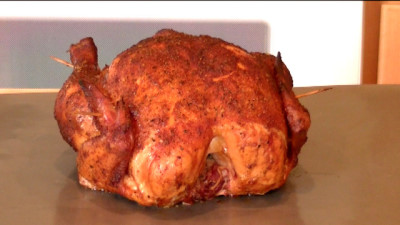 This really turned ou well.