I was very happy with the results. I decided not to foil them this time based on the advice of some of you guys on the board. I like my ribs to have some pull to them, so I decided to let 'em smoke without the foil. I spritzed them with apple juice once every hour. I also used a combonation of Pecan and Mesquite (3:1).
I promise that next time I will foil them to try it out.
I used Jeff's Rub and gave them the mustard treatment. I was very happy with how that turned out. I finished them with my own sauce. Everyone was very impressed with the ribs. I also made some beans to go with them.
This was a huge amount to make for my first batch, but I figured go big or go home,
right
?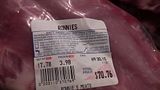 I unpacked them and prep'ed them by removing the membrane and laying them out to get their massage.
Stripped: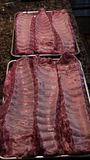 I gave them the mustard treatment and a nice rubdown with Jeff's recipe.
I let them rest with the rub for about 2 hours in the fridge. Then I pulled them out about a half hour before going to the smoker.
To fit them all in the MES 30", I had to half the slabs (see finshed photo).
Rub:
The beans were simple, a big ole can of Bush's original with some of the Rib Rub sprinkled on top, then a weave of bacon ontop of that, and some more rub. Once it was almost done, a little sauce over the top. Very quick and easy but they were a big hit. The original plan was to make them on the bottom rack of the smoker to collect the dripping goodness, but due to lack of space, they went to the oven.
Beans Before:
Beans After:
Ribs:
The photo above was a hard shot to show the real color for some reason. This is with the camera flash, and the one below is without the camera flash. Neither photo seems to show what the color actually looked like.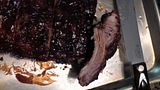 I was very happy with the results. I am not sure what I am going to do next. Maybe a meatloaf. On a side note: I really like my ET-73. So much better than the thermo I had before.
Thanks again to those of you that chimed in with your guidence.