I smoked some beef short ribs this weekend for the first time. I started with about 2.3 pounds of beef bone in chuck short ribs. There were only 4 of them in the package but each one was pretty meaty!
Friday night I rubbed the ribs with yellow mustard and coated them in Jeff's rub. Saturday I fired up my WSM using the Minion method with Stubbs briquettes and 3 chunks of cherry. I filled the charcoal ring about 1/2 full and burried the cherry in the briquettes. I lit about 1/2 of a chimney of briquettes and dumped them on when they were ready.
I smoked them using the 3-2-1 method. After 2 hours I sprayed them with a apple juice/Captain Morgan's mixture. At the 3 hour mark I sprayed them again and wrapped them in foil. At the 5 hour mark I removed the foil and sprayed them again. After the last hour I pulled the ribs and here is where I may have gone wrong. My dog needed to take care of business so I wrapped the ribs in foil, chucked them in a cooler and packed the cooler with towels. 30 minutes later our walk was done and my dog was now content.
Once at home I unfoiled the ribs and sat down to dinner with my wife. She had a baked sweet potato and salads ready to go. The ribs tasted good but they were a little tough and a bit dry. I was really expecting something more tender and moist. They weren't inedible, just not what I thought I was going to get. Not sure where I went wrong. Could it have been the foiling and resting in a cooler? The good thing about screwing up is you get to try again! Beef short ribs are on my list for another smoke.
Ribs in the package...
Ready for some rub...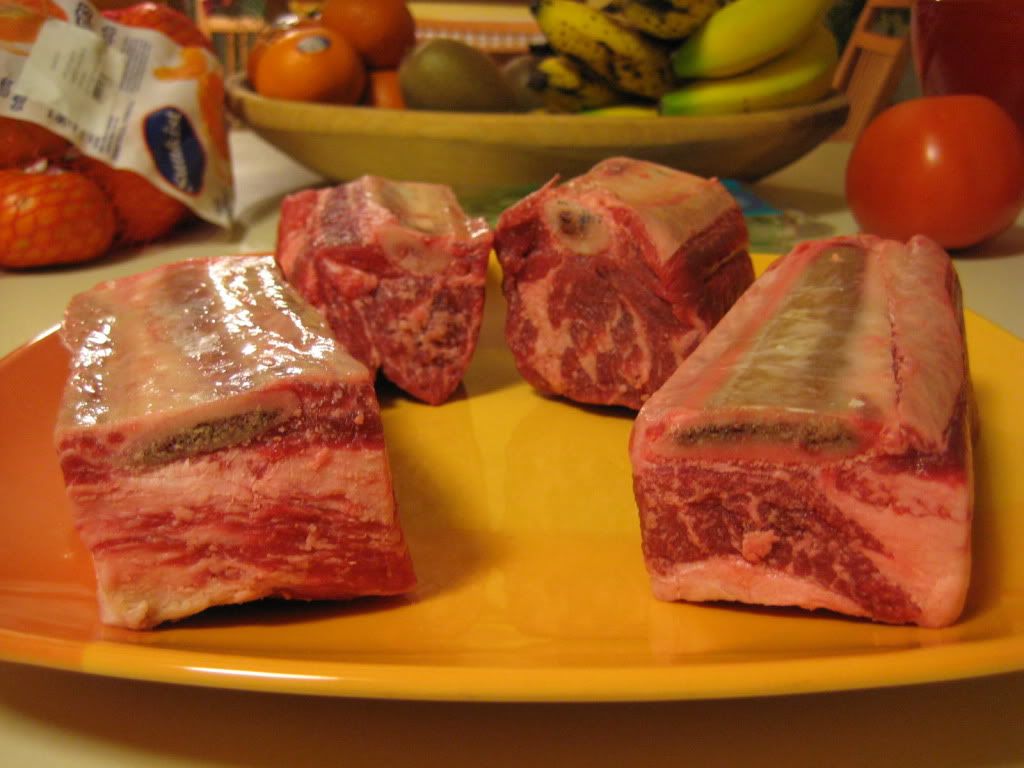 Ribs rubbed and ready for a little nap...
Ribs ready to go on the smoker...
On the smoker...
TBS!
Ready to come off the smoker...
Dinner is ready...(picture with flash)
picture without flash...
Closer view...
Thanks for looking!