First off let me start by thanking everyone here. I have been a long time reader of these boards and the newsletter. I have only recently taken smoking to the next level and have gotten really serious about it. I have learned A LOT from you guys. People who have tried my ribs and such over time have noticed how much I have improved and they thank you too. Lord knows my earlier results were far from good and barely edible. Thanks again, and looking forward to now being a regular contributor to the site rather then just a reader.
Rib preparation under way.
I usually don't do much outside of a little trimming then rub em and throw them in the smoker. This day I decided to try cutting them St. Louis style. Not sure I did it perfectly but they are done and rubbed. One rack with a basic safe rub for my wife, one with a Brazilian Rub that I really like, and one with a habenero rub I make. The ribs, except for my wife's safe ribs, are brushed with a horseradish mustard before rubbed down.
Here are the rib trimmin's. I will use these for beans or snackin' They are just brushed with a little oil then sprinkled with salt, pepper, and a steak dust I thought I would just throw on to see what it tastes like.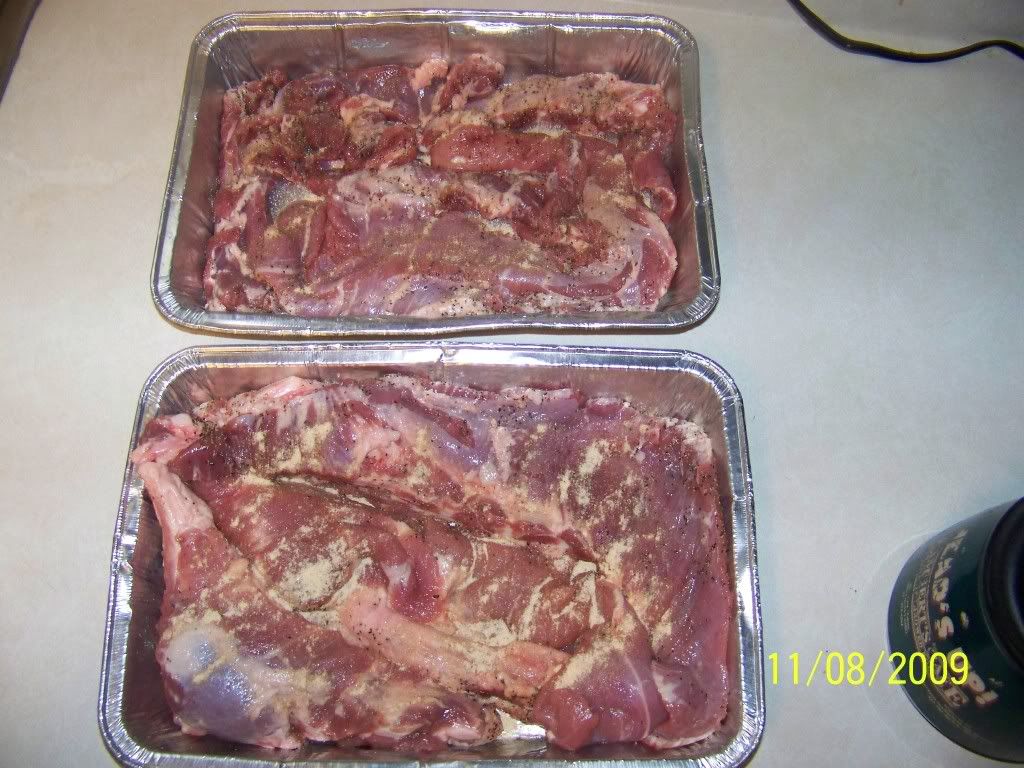 Everything is now in the MES and more pic's will follow. I got them done just in time to catch the Bears game but after watching the first half, at least I will have some good ribs to look forward to soon. The Bears have played so poorly they have even switched the games on TV. How sad. Oh well, Nascar is on now anyways.