Labor Day weekend I got about a 40lb case of fresh skinned bellies(3). I trimmed them up and squared em off and into the freezer save one 5lb piece. This one I want to try a few things in combination that have worked well in the past. So this was wet cured and then giving a very light coating of molasses and then packed the outside with heavy fresh cracked black pepper.
Wet cure was
1 quart of water
1/4 kosher salt
1/4 cup brown sugar
1 tsp insta cure #1
Cured in the fridge flipping daily(almost) for 10 days. Here is a shot of the cured belly.
And a shot of the edge that the bacon will look like. Pretty meaty.
Then coated with the molasses and CBP.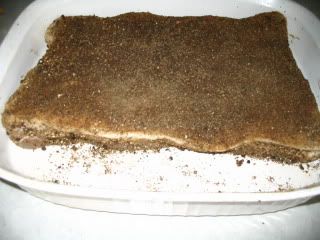 Now onto the smoker overnite with apple smoke.
Hoping this will be done by the time I leave for work in the morning but we'll see. Might have to have the wife pull my meat for me.
More pics of the finished product to follow.