Here's my smoked salmon I had for Sunday dinner with smoked tri tip and the salmon chowder (on another thread)hope you guys take a look at.
The salmon,
Couple nice fresh pieces of salmon, I took the skin off
Seasoned with extra virgin olive oil on both sides, garlic salt, garlic pepper, chopped fresh garlic and dill on both sides.
Smoker up to 220, Tried out for the first time my propane modified SNP side firebox smoker, it's great, holds a constant temp thats for sure. Popped the salmon on, put a water pan next to the fire for some moisture, smoked it for only 30 minutes 40 minutes tops to keep the fish moist and tender and not all dried and gritty, no siree, 30 minutes and you got great, perfectly moist smoked salmon.
30 or so minutes later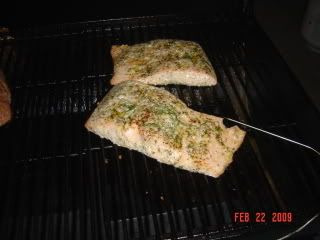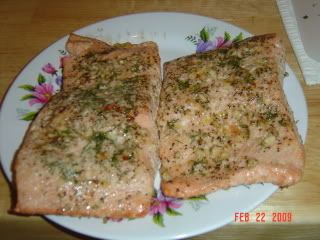 It was a great dinner