do you have a garden or acess to fresh maters,cucs,peppers??? if so try this!!!
Ingredients:
1 cucumber
3 tomatoes, use combo red and yellow for color
1 sm to med onion
½ c green onion
1 green pepper, use combo orange,red,green for color
¼ c evoo
2 tsp salt
½ c ketchup
½ tsp pepper
1 small can green chilis, in Mexican food area
2 Tbl chilli pepper-same as chili powder
1 Tbl cumin
¼ c fresh cilantro
½ c lime or lemon juice
2 Tbl sugar
Small chop all fresh ingredients, chop cilantro very fine. Mix all ingredients together and serve with scoop tostito shells.
[FONT='Calibri','sans-serif']For a salsa, using all fresh ingreds it is so fresh tasting!!!![/font]
[FONT='Calibri','sans-serif'][/font]
[FONT='Calibri','sans-serif']if u have this-u can make it!!![/font]
[FONT='Calibri','sans-serif']
[/font]
[FONT='Calibri','sans-serif'][/font]
[FONT='Calibri','sans-serif']the chopped veggies[/font]
[FONT='Calibri','sans-serif']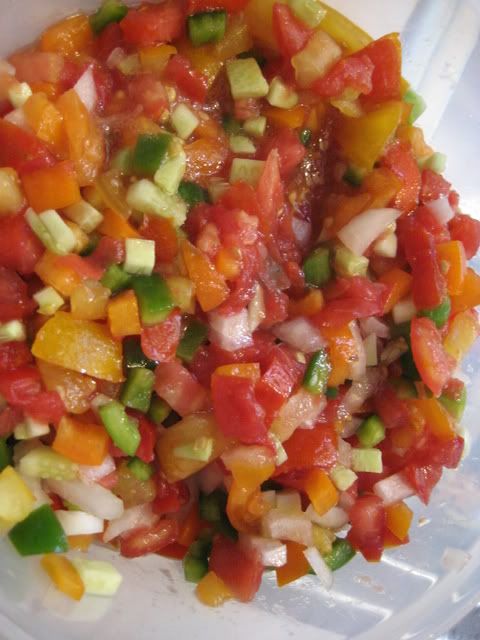 [/font]
[FONT='Calibri','sans-serif'][/font]
[FONT='Calibri','sans-serif']with the rest of ingreds[/font]
[FONT='Calibri','sans-serif']
[/font]
[FONT='Calibri','sans-serif'][/font]
[FONT='Calibri','sans-serif']serve with scoops[/font]
[FONT='Calibri','sans-serif']
[/font]