After smoking for almost 6 months, I had not smoked a brisket. Had been stalling at it for a while and one night in the chat room, Desertlites challenged me to a
brisket throwdown
!
With the encouragement from the other chatters in the room, I accepted the challenge!
I decided to smoke my brisket today and Bob is doing his tomorrow and will post his pics in this thread. It's a friendly, virtual competition, one only suitable for the SMF
.
Both of us used the
smokyokie searing method
. It smelled wonderful while on the grill!
Here are some details and qvue of my brisket smoke, thus far:
- Smoking a 11# packer with the point separated from the flat
- Rubbed meat with Jeff's rub and let it sit in fridge overnight for 12 hours
- Seared meat on both sides until sticky and black - internal temp when I pulled the meats off was 129 deg.
- Mopped meat every hour with a recipe of: 1 stick of salted butter, juice of 1 whole lemon, worchestire sauce until mixture is a rich brown color
- Waited for internal temps to hit 170 deg and foiled both pieces of meat with some of the mop sauce in there. The point hit 170 about 90 min before the flat.
- type of wood used = hickory

Q-vue!
separated point from flat, awaiting rub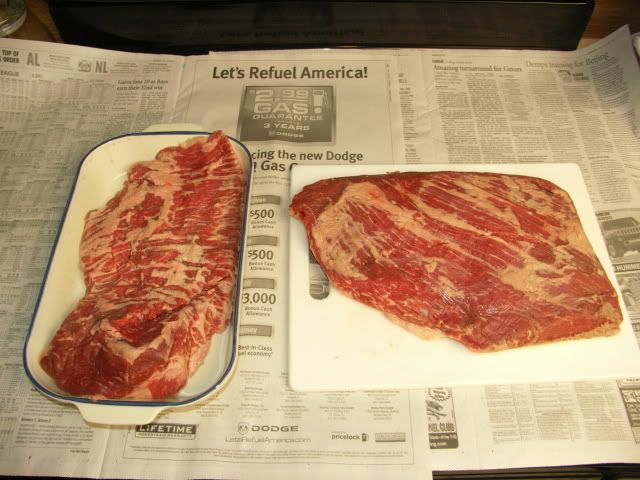 rubbed point and flat, awaiting the sear

flaming brisket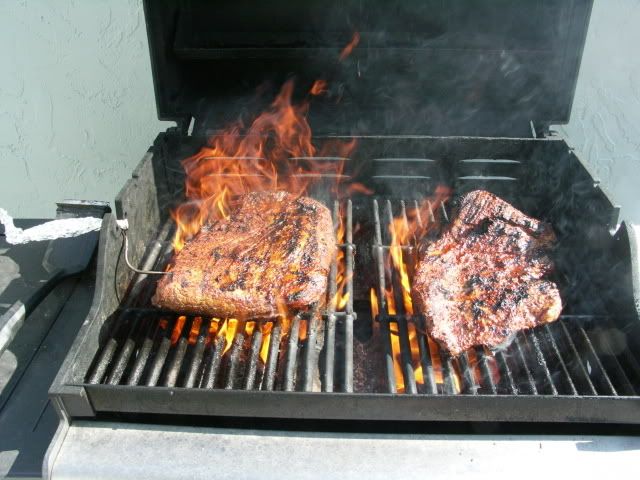 ready for the smoking session

flat prior to foiling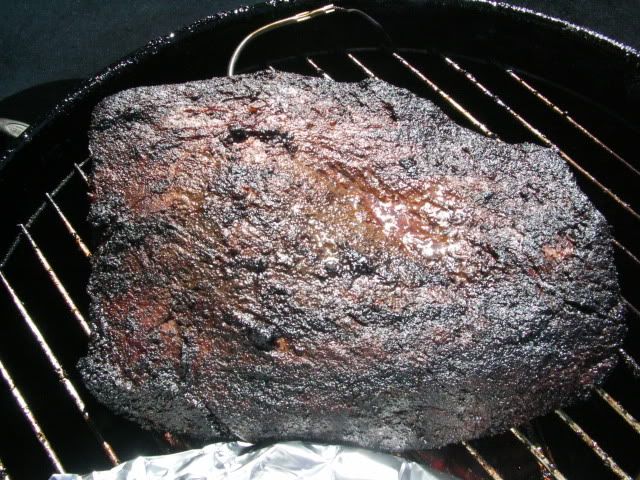 Next batch of pics will be of the finished products. Can't wait to see what Bob's brisket looks like!