Well smoked a brisket this weekend, nothing special, but im new here so i figured it would be my first qview post... started last night with just grilling dinner, threw some onions on and then did some boring quick burgers due to time constraints (screaming hungry kids). I did try a buttered grilled bun like I had seen here earlier and it was fantastic! I also did dessert for me and the wife with some pears and peaches drenched in a honey and sugar glaze, the lightly charred. After all that was done, moved onto brisket mode. Got a couple on the cheap due to a price match and got this 7# ready for tonight.
here it is rubbed in mustard and some all purpose rub, ready to go..
after 3 hours transferred to foil and let simmer in the oven (i had a need to sleep!) at 200 all night..
letting it stand, but couldnt resist a chef's morsel!
here's the onions and desert, just for added viewing.. i was in a hurry and forgot some in progress photos of the fruit, and it was half gone by the time I remembered!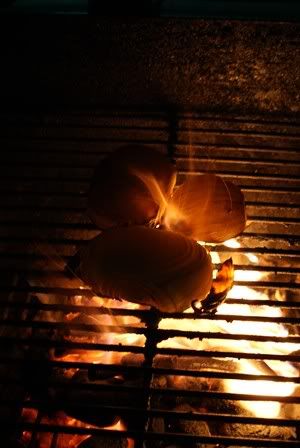 it's all delicious! Im going to try and sear the brisket next time, sounds great!