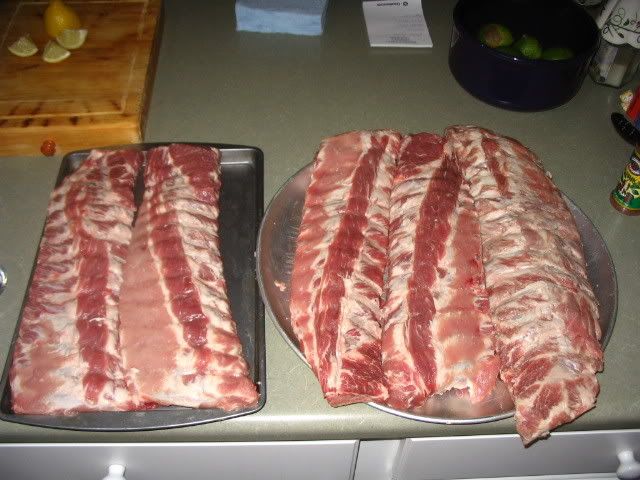 Ok here we go. Here are the 5 slabs trimmed with membrane removed and ready to go, washed clean and patted dry.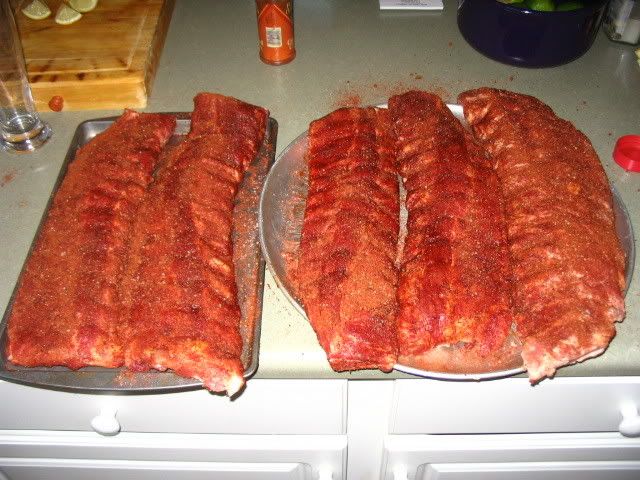 Here are the slabs with Jeff's Rub all nice and red getting ready for an over night in the fridge. I took em out for about 2 hours the next morning to warm to room temperature before putting them in the smoke.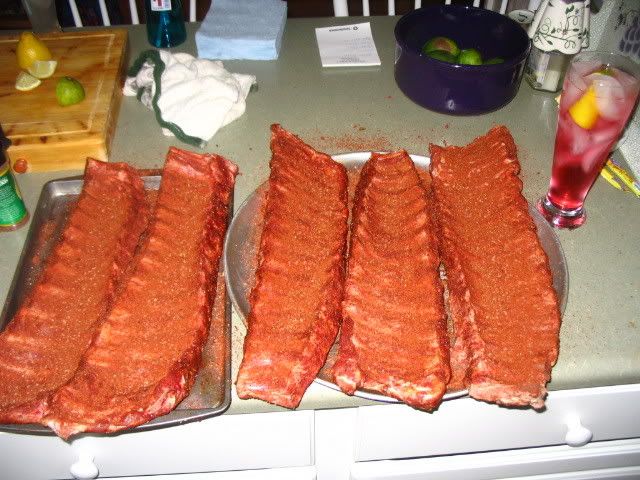 Here they are on the other side, Rubbed with a liberal amount of
Jeff's rub with a nice tall adult libation!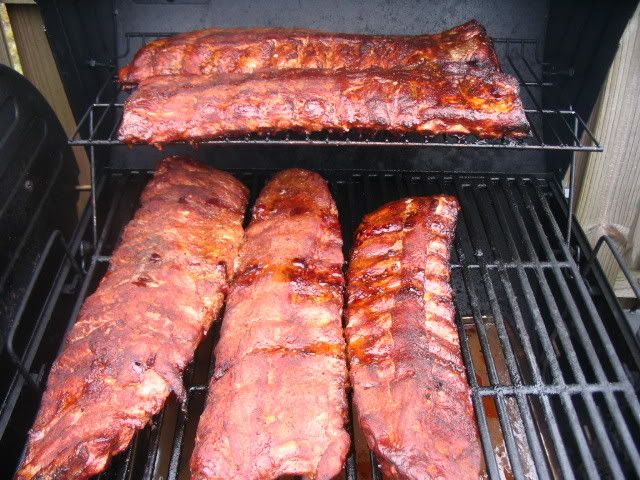 First look at them after 2 hours in my Char Griller DUO smoker with the Side Fire Box. I sprayed Apple juice on them every 45 minutes or so. I also used a drip pan filled with water to keep em moist. I had a pretty even temperature of around 200-225. I smoked these in the rain, and the rain actually helped keep the smoker at an even temperature. When I smoke in the summer, sometimes I cant keep the temp at a low 225 due to the outside heat, so if you have an umbrella, the rain aint no pain!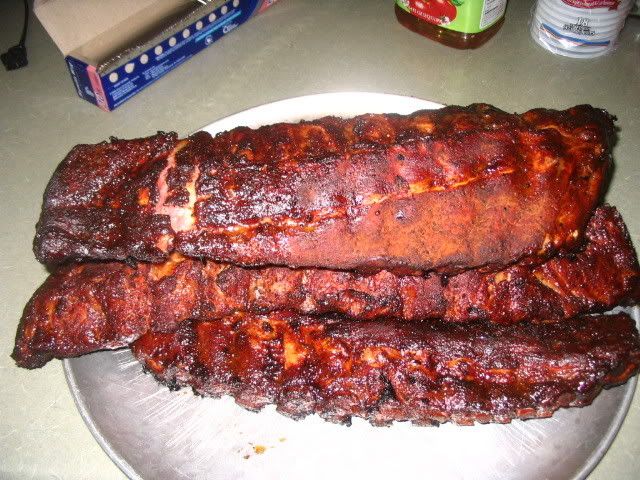 Looking good after the first 2 hours, ready to wrap in foil.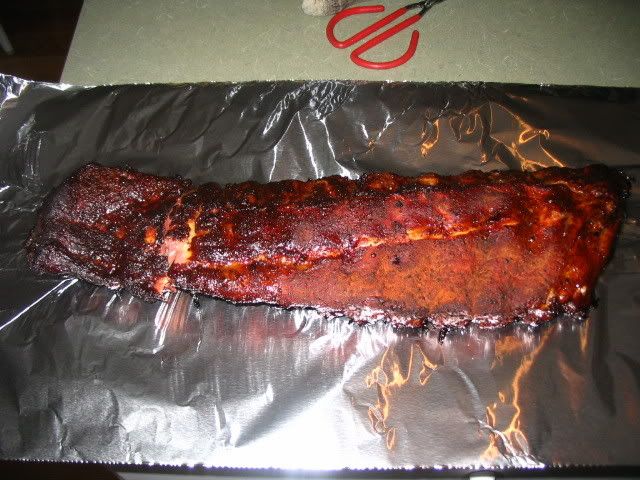 Slab in the foil, ready splash with Apple Juice.. humm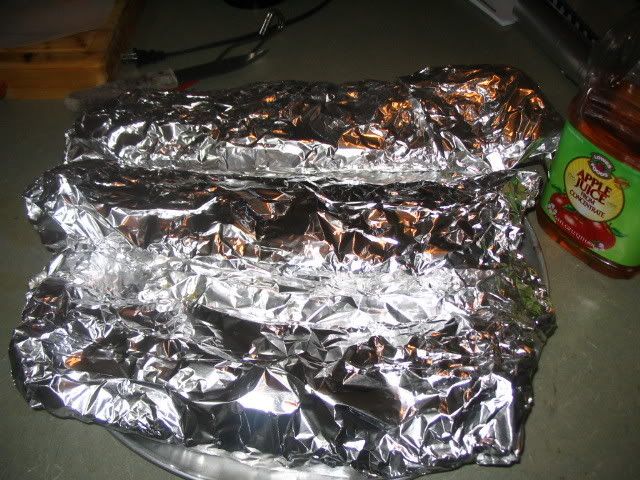 Here they are wrapped and stacked and ready to go back into the grill for another 2 hours
........ I cant wait!!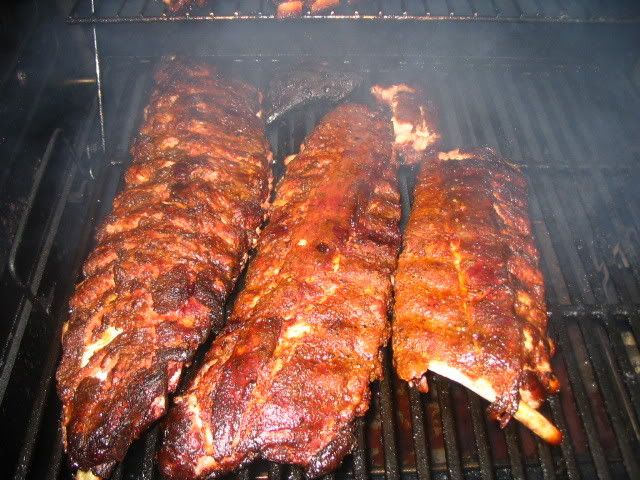 Here they are after the 2nd 2 hours out of the foil. I had to be careful as they started to tear
apart easily if I grabbed them wrong with the tongs. Nice blue smoke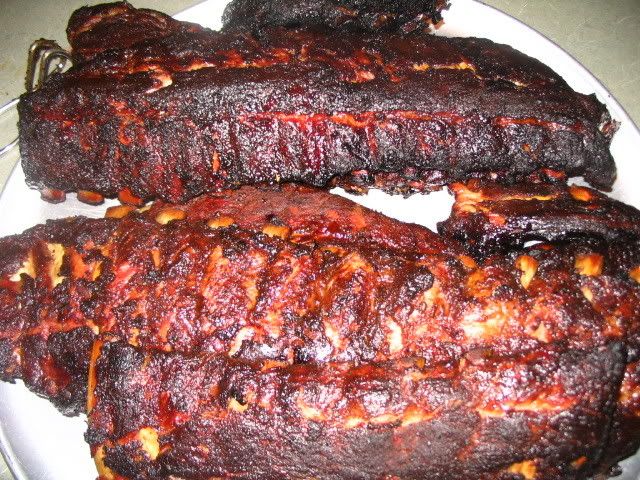 Here they are after about 45 minutes or so back in the smoke at 225. Nice bark layer, looking good.
I have to end it here. I can only up load 10 pics... So the rest is continued in the next post
Thanks to all for your suggestions, these really were the BEST Ribs I ever made and EVEREYONE raved about em.
q
Char Griller DUO with the Side Fire Box
The Best Smoker Griller you can buy for under 300 bucks!