Well I was in the mood for a smoke and since noone was available for a day of smoking I headed over to the parents sunday morning with a brined and rubbed turkey and a nice big fattie.
It all started sat afternoon with the turkey going into the brine.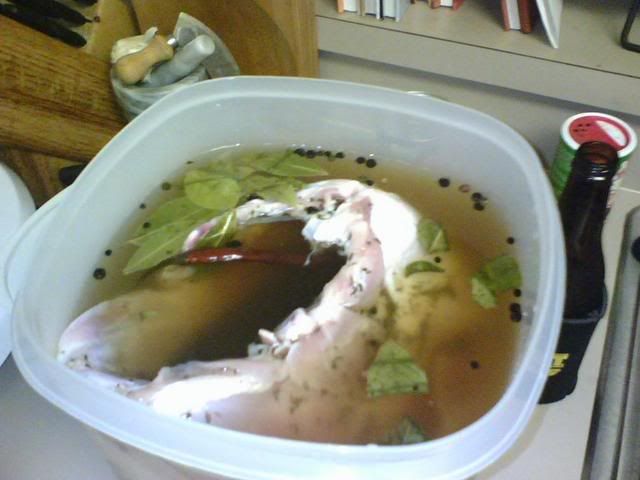 My brine:
2g Water
1 1/2lb Salt
1c Sugar
2t Bayleaf
2t Dry Thyme
2t Peppercorns
2t Juniper Berried
2t Basil (Dry)
2t Ginger (Dry)
2t Marjoram (Dry)
2t Sage
Boil ingredients for 3 min and cool. Brine turkey for 24 hours.
After the turkey went into the brine, I mixed my sausage and beef rolled it flat and added my stuffings. Cheddar, onion, green pepper and tomatoes.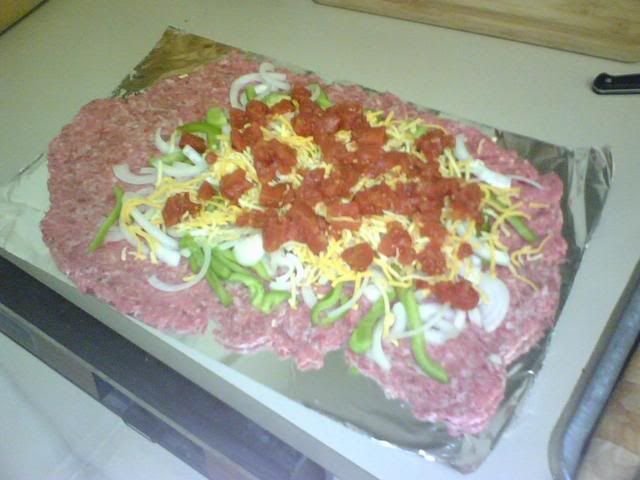 Rolled the fattie up and coated it with mustard and Jeff's rub.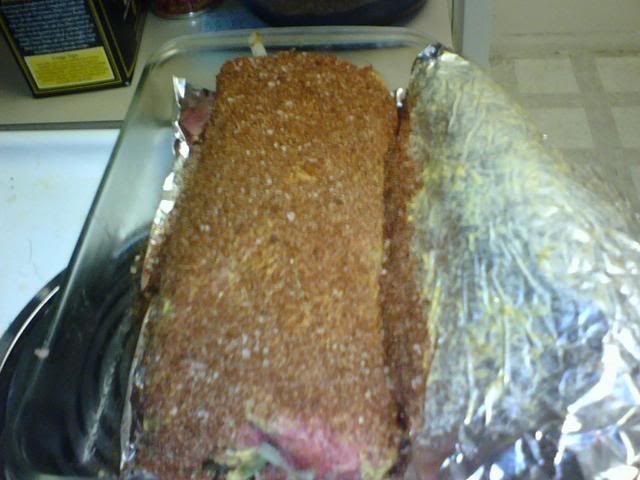 The next day prior to heading to the parents I removed the turkey from the brine and gave it a good rub. (Jeff's rub once again)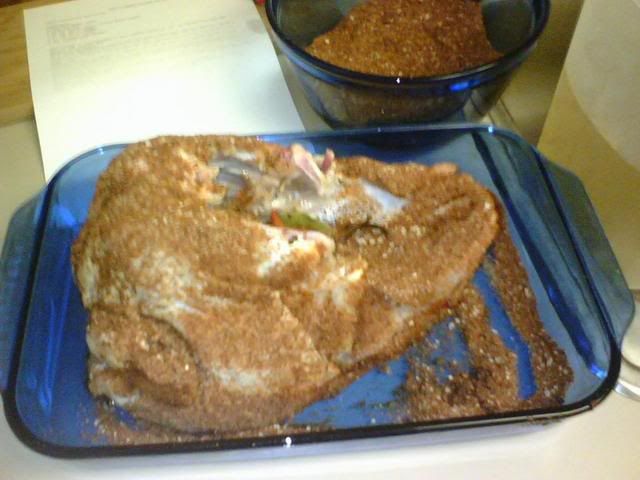 Once the coals got nice and hot I added the wonderful orange that fudley was nice enough to give me. Thanks again Bud that smoke has a wonderful scent and great flavor.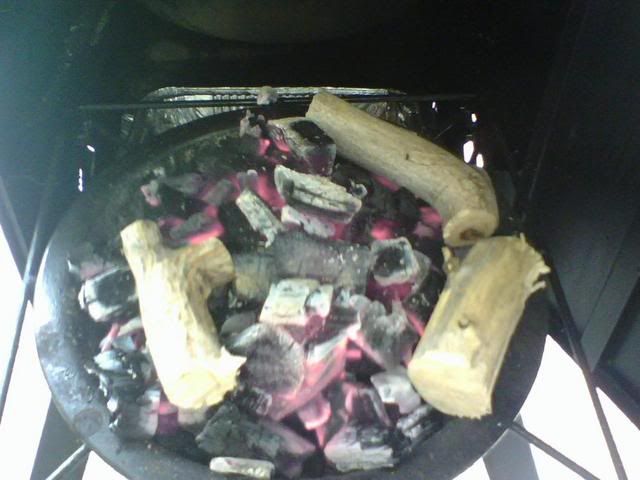 Once temp was achieved I got the turkey and fattie into the smoker and sat back for a day of football, frosty beverages and smoke.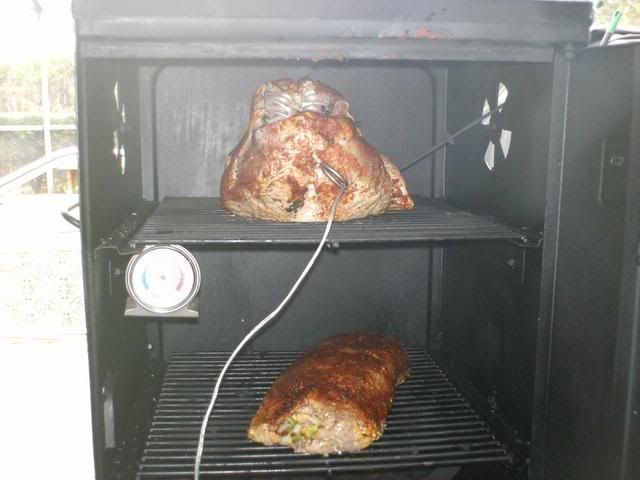 Once the fattie was cooked, it was pulled and went into a warm oven to wait for the turkey.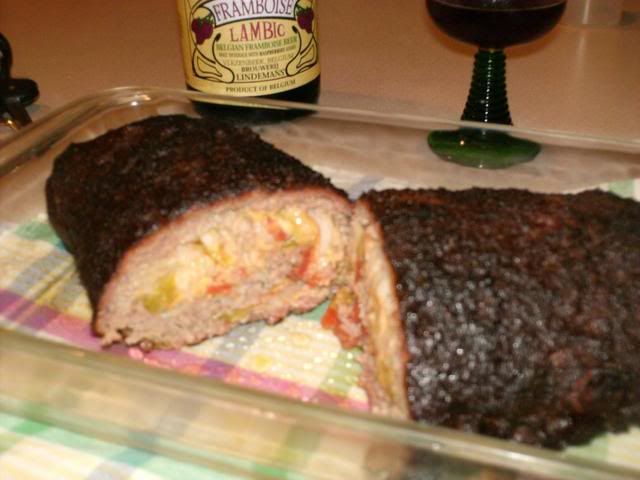 Turkey was done a while later and was looking good!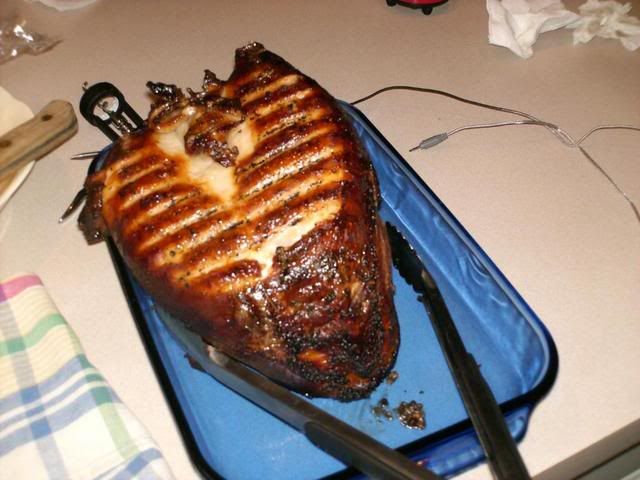 The sliced fattie.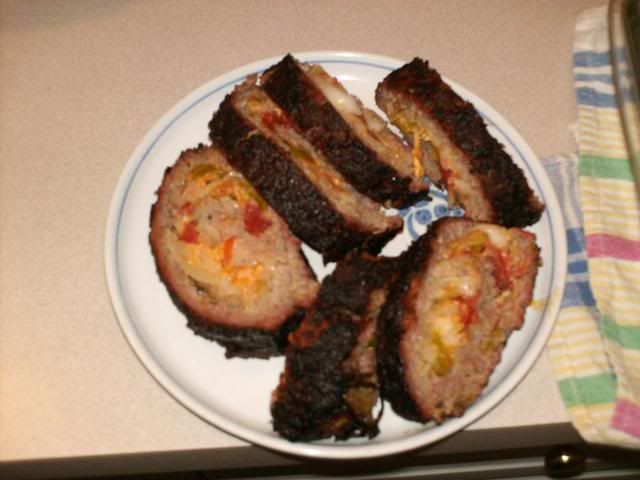 Got the turkey sliced and it was wonderful. A great taste and incredibly juicy. Cant wait to do it again.
I will stop here and thank scotty. The homemade wine he brought to the smokeout was wonderful and we all enjoyed a glass with the meal.
Once again a great meal shared with the family.
I hope this post breaks you all out of your back to work monday blues and gets you thinking of this weekends smoke. I found some brisket for $2.20/lb.
I think I know what the next smoke will be.