Afternoon all!
I whipped up my favorite burgers and some home fries so I thought I'd share the love!
I started with chuck-eye steak and beef short ribs ....
I cut them into chunks added a clove of finely chopped garlic, look at the knife skills! You go girl!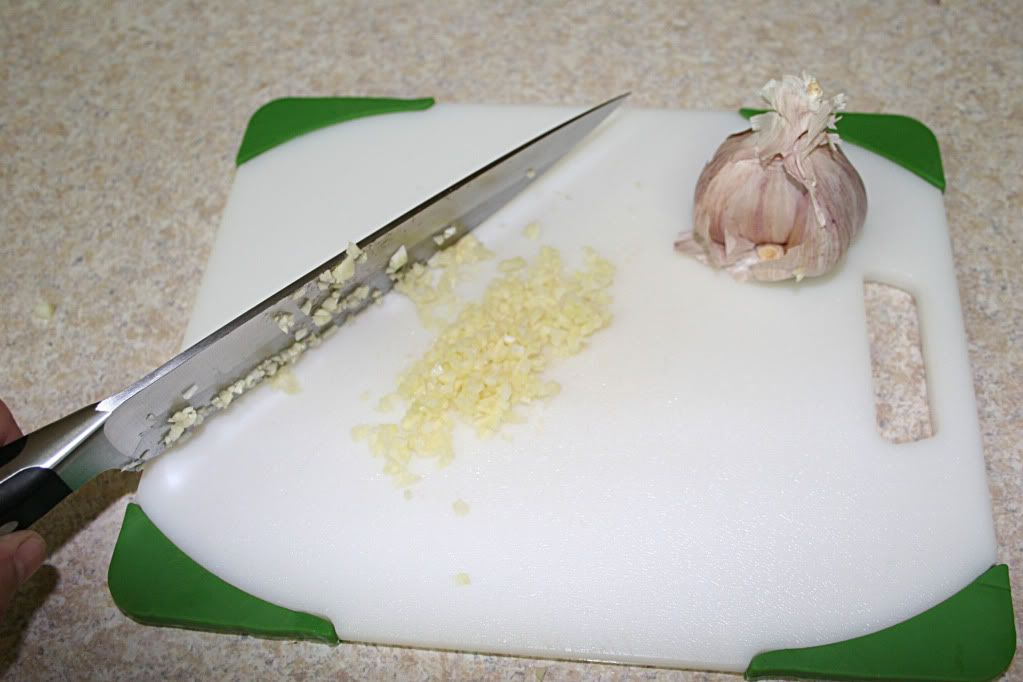 Then I added a heaping spoon full of ghee, a couple of drops of truffle oil, black pepper and a pinch of fancy French salt (I'm outta control, what can I say!) And NOOOOO that is NOT a bottle of Crown in the background. But whatever it is, I plan on having a little later on this evening.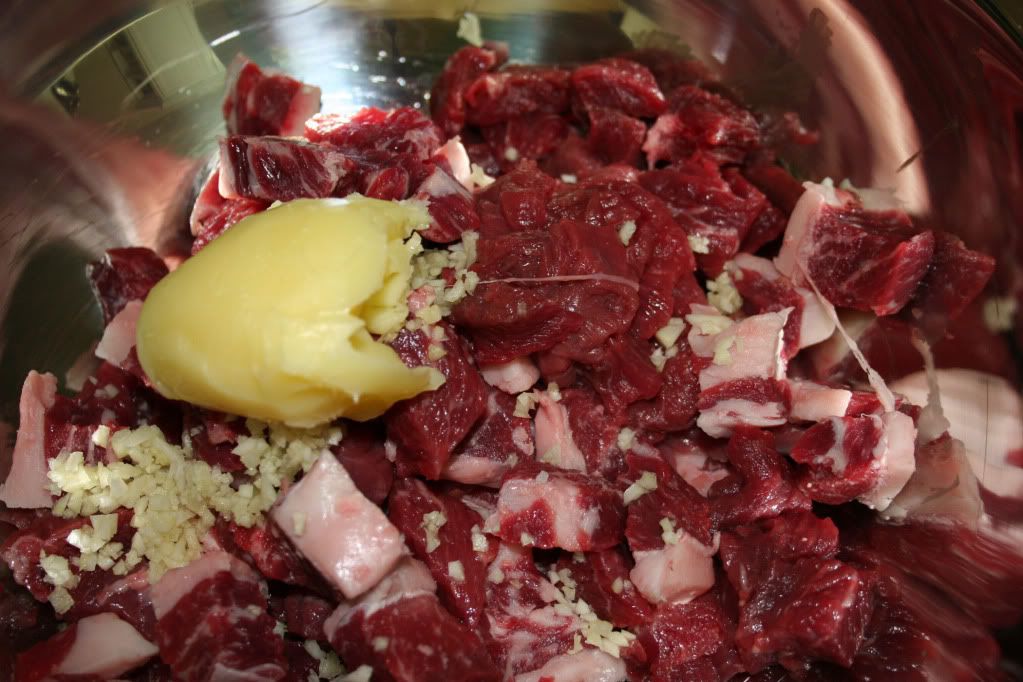 Then I mixed it all up and stuck it in the freezer for about 20 minutes. I do that for a couple of reasons, it's easier to grind when it's firm and it keeps the fat from melting. Squirrels like fat....Then I got out my handy dandy grinder, now don't you go and laugh at my grinder, I know it looks like it belongs in the Barbie camper I had when I was 12, but it works just fine for a single gal like myself...
See how well it works! And it didn't take very long either. Then I add my secret ingredient - Are you ready for this....wait for it....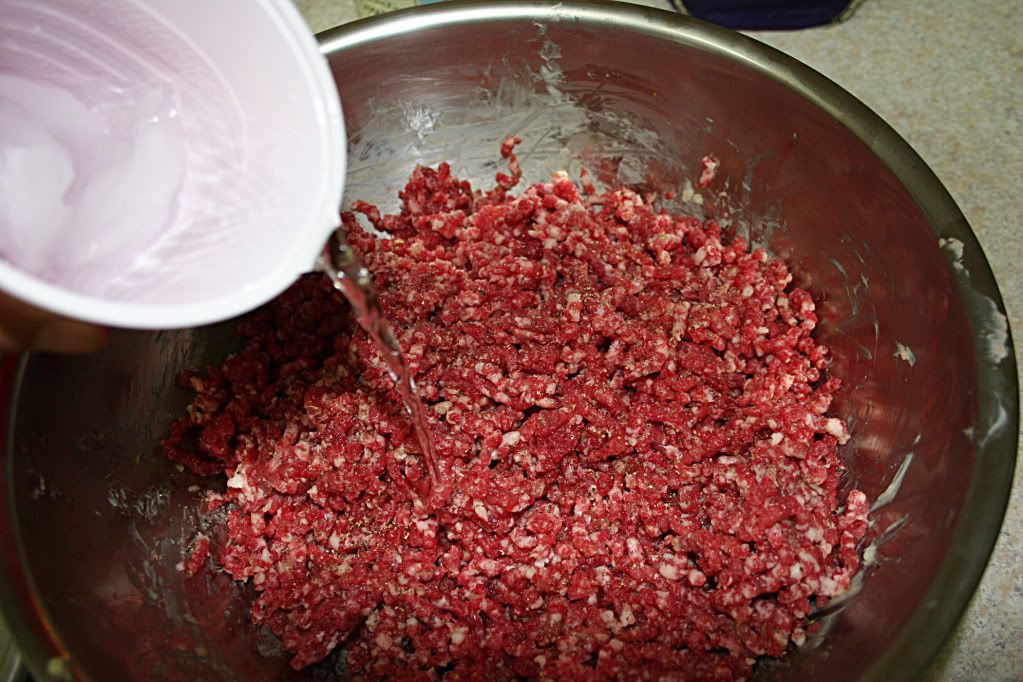 GOTCHA it's just ice water. Not alot, maybe a couple of tablespoons. Keeps'em cold while I put my grubby hands all over the meat. Then I make up my patties...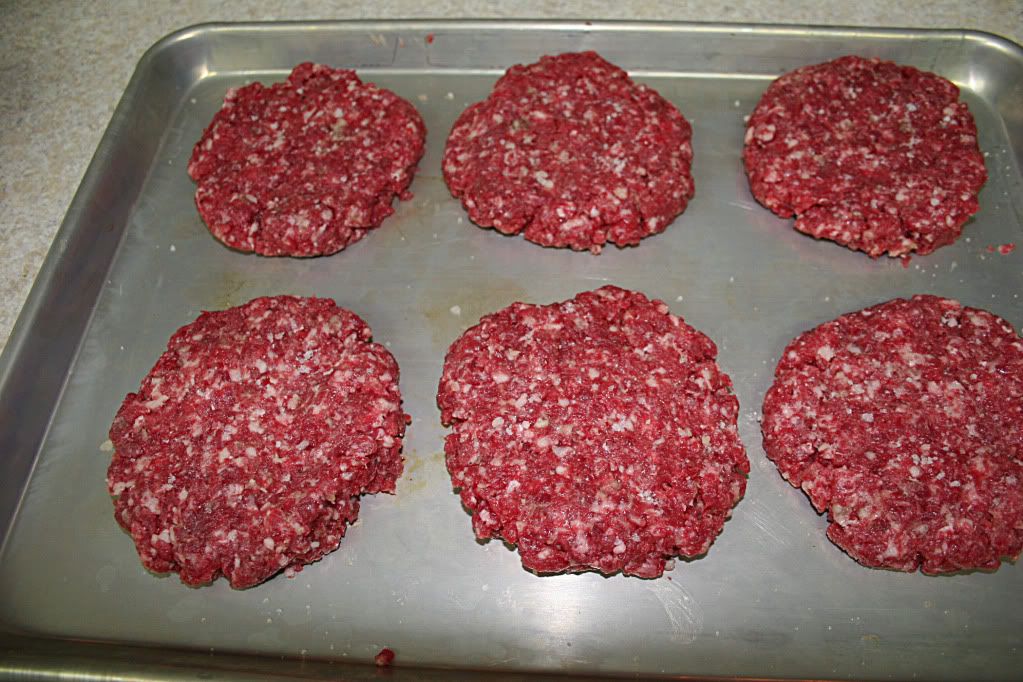 And I toss them on the grill. I did throw a piece of hickory on the coals to add a little smoke, MmmmMMmmMmmm ....Smoke.....Snap out of it girl! Remember those ribs I did the other night and that purdy gravy...well I had a little left so I brushed it on the burgers...
While the burgers were cooking I managed to do two more things, first I got a picture of this guy...
Then, I took three russet taters, gavem the what for with a scrub brush and sliced them up...
Then I cut them in to fries, that is not really picture worthy so use your imagination. Then I soaked them in water to get rid of a little of the starch. Though this may not seem worthy of space, there's something about drowning a potato that just seems a little weird. So...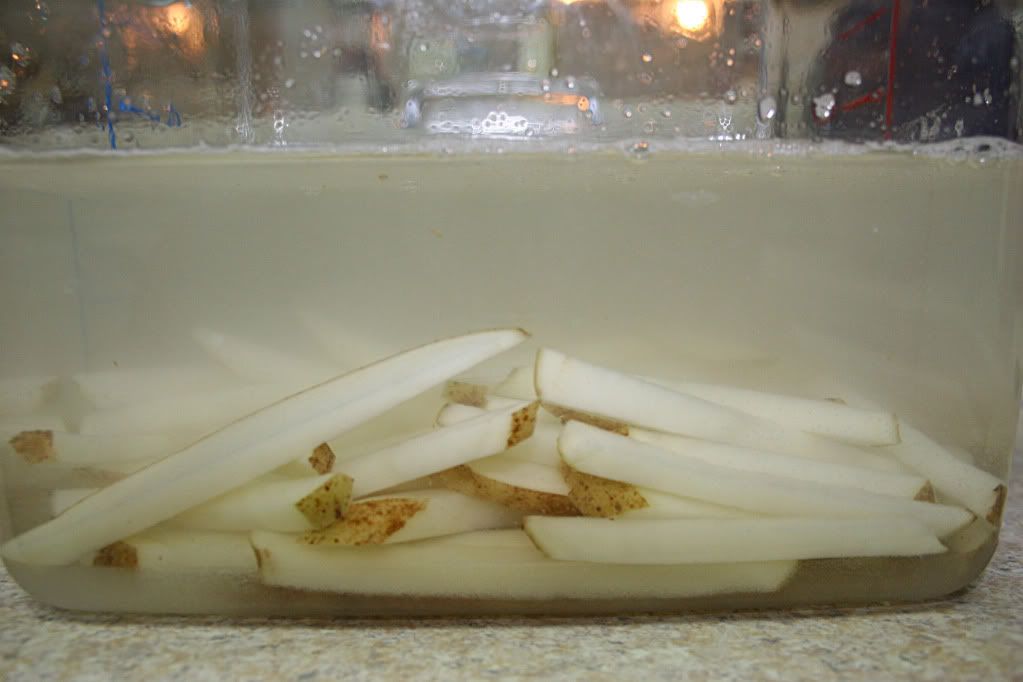 Okay, so I guess you had to be there. Next I heated up some peanut oil to about 360F then I dropped in the taters and two minutes later took them out, you see, we are double frying in hopes of making them crispy. They don't need to get any color on them this time...
I did that in batches, then I blotted off the excess oil then fried them again, taking them out when golden brown .... and you end up with a heapin' helpin' of yummy homemade fries that makes you want to hug them, and squeeze them and call them George. I swear I haven't been drinking.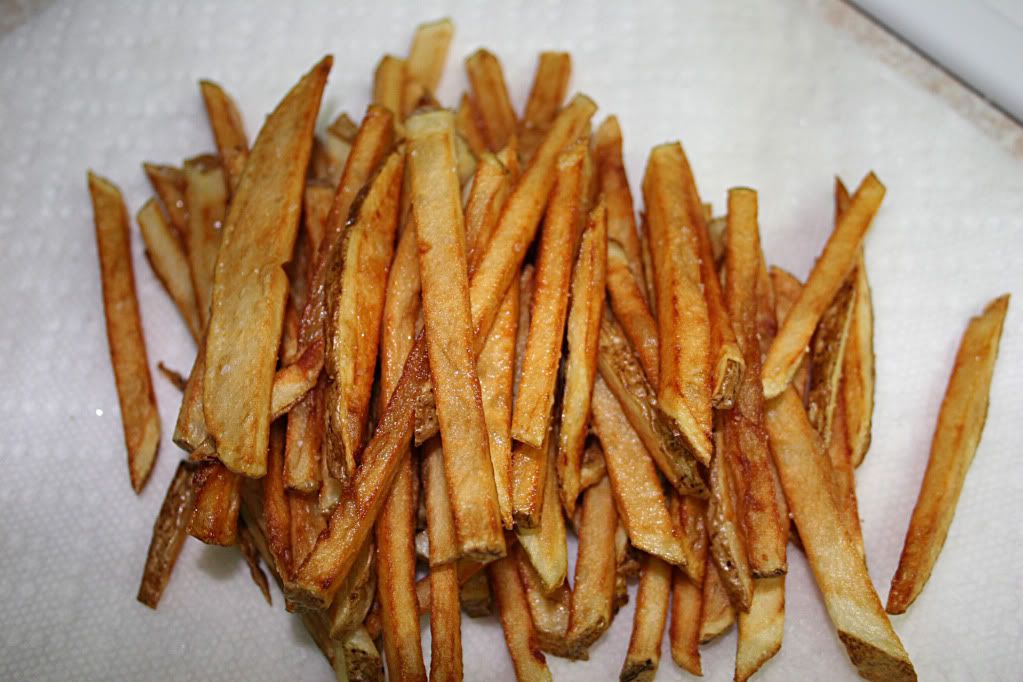 Then, here's the big finale, I put some homemade cheese on top of the tomatoes and put them under the broiler for a couple of minutes, then I ever so lovingly assembled this masterpiece, then I got myself a cold diet pepsi and ate the whole thing. The End.