turkey qview, maybe
offline
693 Posts. Joined 6/2007
Location: Central Ohio
Points: 10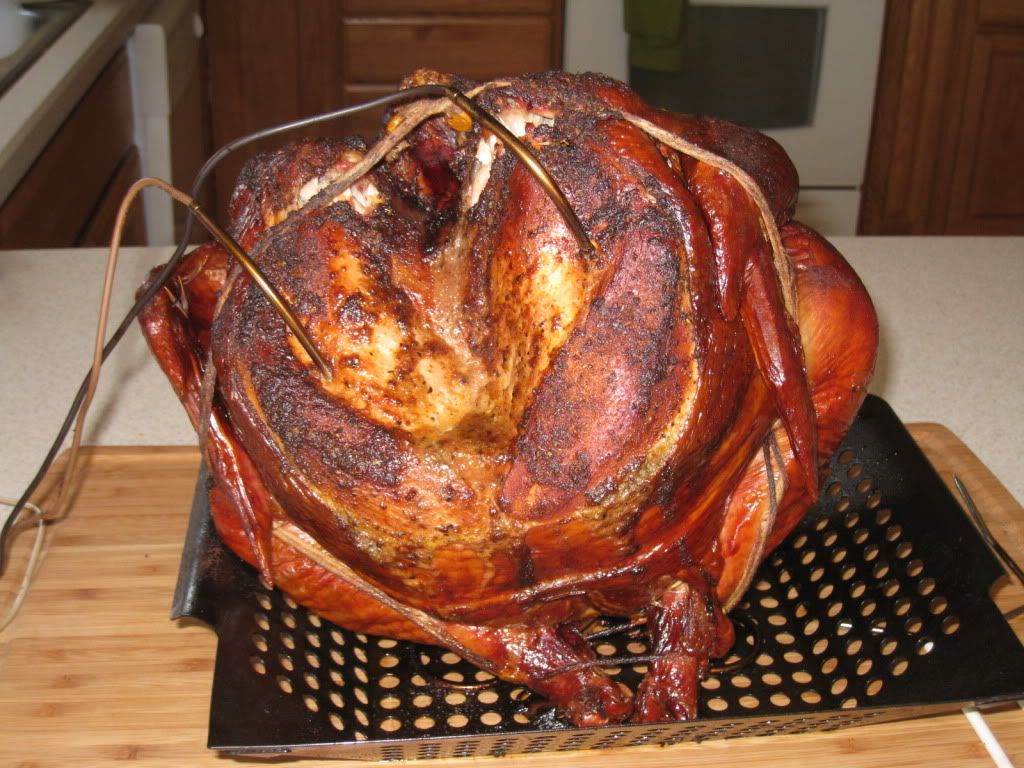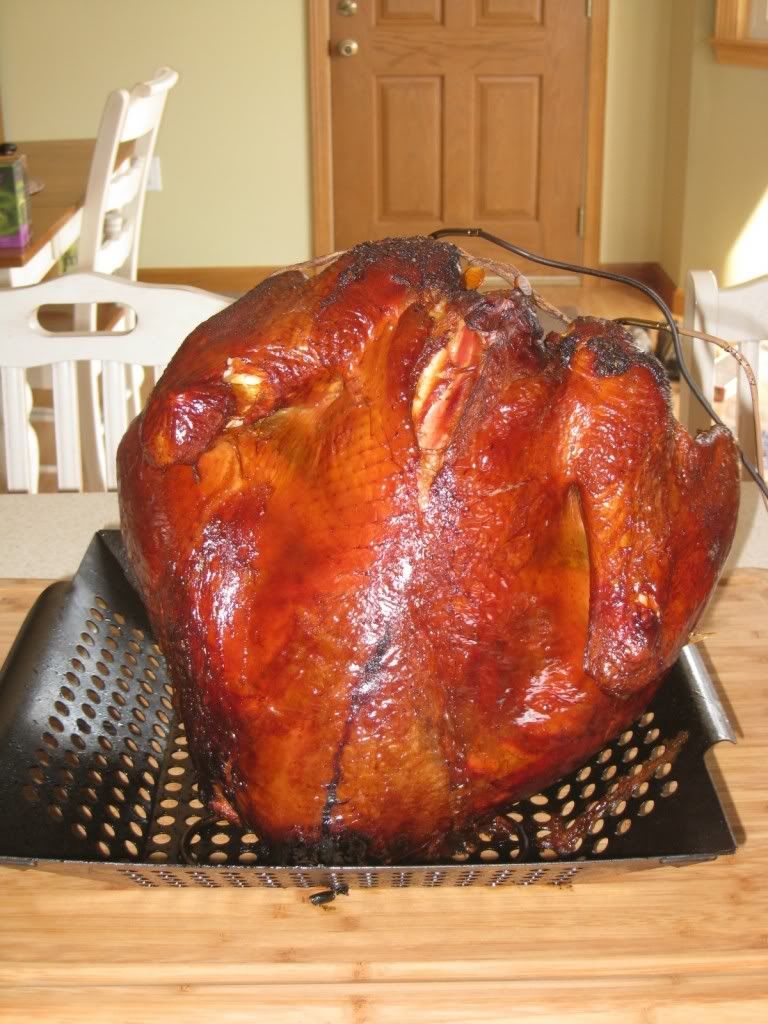 did it work?
offline
25,384 Posts. Joined 9/2009
Location: Macungie, PA
Points: 3573
Yes the pics worked great !-------->>
I was going to hold off on points, because you didn't include any pictures of sliced Turkey, but the color is sooooo nice, I had to give 'em to you now.
But----Don't you have any more pics??????
Bearcarver
offline
693 Posts. Joined 6/2007
Location: Central Ohio
Points: 10
more pics? ha ha, its only taken me about 3 years to get my first qview give me a break!
OTBS Member #209

offline
939 Posts. Joined 4/2009
Location: Mcnairy County Tennessee
Points: 14
Beautiful color on that thing man.......Very nice
offline
5,702 Posts. Joined 10/2007
Location: West Fargo, ND / Northern MN
Points: 33
Very nice looking bird. So what are the stats on the smoke? Times, temps, prep, rub, injections???

Good Work
offline
693 Posts. Joined 6/2007
Location: Central Ohio
Points: 10
oh sorry bout the stats, I was so excited I was able to post a picture I forgot, that was a big step for a technology challenged person like myself. I just heard about these things called Ipods, they are amazing you can listen to music without an 8 track, cassette tape or even a cd!! They are the darndest things.
So anyways I mixed some poultry rub with a little olive oil and rubbed that down between the skin and breast meat. Then used my beer butt cooker with a can of bud light lime. I had to tie up the legs a bit to keep it sitting straight on the beer can cooker. Smoked it at about 300 with cherry and it took about 3 hours. Let it rest for 30-45 minutes the cut it up. It was great but I would like a little more smoke flavor, maybe use hickory next time. I did not brine but the next I'll give that a shot. Even without the brine it was the juiciest most tender turkey I've ever had! My wife said she is never roasting a turkey again!
I think doing the beer can is the only way I can do a whole turkey since I've got the small GOSM, but I had no problem getting it in there and it was 16lbs.
OTBS # 190

offline
14,478 Posts. Joined 3/2009
Location: Atlantic Beach, RatTown, FL
Points: 52
Now it has taken you a long time to learn how to send Qview. I'm really glad you have learned it and you have to stick to it to get it posted to.
For the qview and then the turkey looks fabulous too.
for that to. Well you will be racking up the points now for your smokes.
Northen Greenhorn

offline
1,028 Posts. Joined 3/2010
Location: McHenry, Illinois
Points: 10
Uummm
Turkey, now that's a great looking bird
Relax and Have a Beer

offline
887 Posts. Joined 3/2010
Location: South Jersey
Points: 13
If by working you mean made me hungry... YES IT WORKED!!!!!!
offline
112 Posts. Joined 3/2010
Location: Boise, Idaho
Points: 10
That is one fine looking bird, very nice and welcome to the world of qview!!
I am with Steve, I am hungry now too and drooling a little...LoL!
offline
516 Posts. Joined 3/2010
Location: Frankfort, Kentucky
Points: 15
now your talking TURKEY
offline
693 Posts. Joined 6/2007
Location: Central Ohio
Points: 10
Thanks guys. Glad I finally found out how to post pictures, now I just need to find the time to smoke again.
offline
6,039 Posts. Joined 3/2010
Location: N.E. Louisiana
Points: 52