Just started my smoker for the first time. Click the thumbnails for larger images.
Unit is a Landmann Black Dog that I modded by replacing the side grill with a steel plate-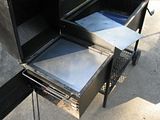 Raised the fuel grill with 3 bricks-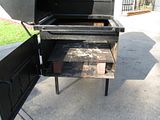 And I added a another plate in the bottom to cover the ash removal hole.
Also put a pan of water in.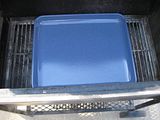 Here are our 2 victims, shoulders for pulled pork, one rubbed with mustard then spices, the other with gravy master and spices. None of my relatives like spicy food so the rubs are very mild.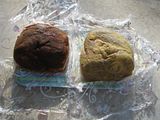 On the grill.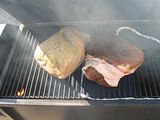 I'm using my DVOM's temp probe to monitor temp at the grill level, and probing the larger of the 2 for meat temp.
For fuel it's briquettes and fist sized chunks of apple wood. Temp at the grill right now is 215
°
.
Updates to follow.